2011 Trauma, Burn and Critical Care Surgery Research Summary
Introduction from the Chairman:
Carlos A. Pellegrini, MD

- Inflammatory Signaling Response to Thermal Injury
- Head Injury in Anticoagulated Patients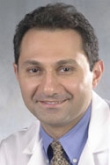 Saman Arbabi, MD, MPH
Associate Professor
Inflammatory Signaling Response to Thermal Injury
Severe thermal insult induces a major disturbance in the homeostatic mechanisms with significant disturbances in hemodynamic, respiratory, and metabolic pathways. Potential post-injury complications include severe sepsis, multisystem organ failure, and death. Since an aberrant systemic inflammatory response appears to be the underlying mechanism for ultimate organ failure, most studies have focused on systemic therapy to control this over-exuberant immune response. However, systemic administration of several anti-inflammatory or immunomodulatory agents, such as platelet activating factor receptor antagonists, anti-TNF antibodies, and IL-1 receptor antagonists, have failed to demonstrate improvement in survival or organ failure. In addition, the systemic administration of immunomodulators is associated with multiple disadvantages. These agents are not tissue specific and act on multiple organs. In a complex interacting system of cell-specific pathways, systemic inhibition of one pathway may have unpredictable deleterious results.
- Hypertonic Resuscitation for Blunt Trauma
- Prehospital Airway Management & Treatment for Traumatic Brain Injury
- National Variability in Prehospital Care Following Injury
- Immunomodulation of the Alveolar Macrophage
- Management of Necrotizing Soft Tissue Infection
- Rib Fracture Management
- Crash Injury Research and Engineering Network (CIREN)
- Massive Transfusion after Severe Injury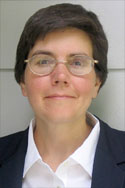 Eileen Bulger, MD
Professor
Director of Emergency Services at Harborview Medical Center
Based on a strong interest in trauma and critical care, my research has focused on injury prevention, important clinical questions regarding patient management, and elucidation of the cellular biology of the systemic inflammatory response. My clinical research has focused on the prehospital care of patients following traumatic injury, including airway management and fluid resuscitation strategies. My laboratory efforts, in collaboration with Dr. Ronald Maier and Dr. Joseph Cuschieri, have focused on the immunomodulation of the alveolar macrophage, which plays a key role in the development of the acute respiratory distress syndrome (ARDS). In addition, a collaborative study with Dr. Avery Nathens seeks to explore the predictors of poor outcome following necrotizing soft tissue infection. Additional clinical trials address the pain management options for patients with rib fractures and the development of clinical care guidelines for these patients. To address the injury prevention side of the equation, I have recently become the local Principal Investigator (PI) for the Crash Injury Research and Engineering Network (CIREN), which collects detailed data regarding the biomechanics of injury associated with motor vehicle crashes. These data will allow us to make recommendations regarding automobile design and crash test parameters that will translate into a reduction in occupant injury. I am also working with the Department of Defense to define the optimal management strategies for injured patients requiring massive transfusion.
- Toll-Mediated Signaling
- Trauma-Induced Mononuclear Cell Reprogramming
- Proposed Mechanism of Lipid Raft Clustering and Reprogramming
- Trauma-Induced Phenotypic Alterations
- Class Prediction Based on Cytokine Profiles
- Nosocomial Infections in the ICU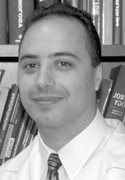 Joseph Cuschieri, MD
Associate Professor
Director, Surgical Critical Care
Severe injury results in the activation of the innate immune system characterized by the systemic inflammatory response syndrome (SIRS). Although this state may persist, resulting in early development of multiple organ dysfunction syndrome (MODS), the majority of injured patients develop a compensatory response that is characterized by a state of dysregulated immune responsiveness. During this state of dysregulated responsiveness, patients are at increased risk for the development of opportunistic or nosocomial infections. If invasive infection occurs following this state, an exaggerated inflammatory response ensues, leading to the development of MODS.
Infection Control Measures in the Trauma Setting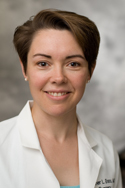 Heather Leigh Evans, MD, MS
Assistant Professor
Infections that develop in the course of supportive care, such as mechanical ventilation and vascular or urinary catheterization, are a resource-intensive problem associated with considerable morbidity and increased risk of mortality. It has been demonstrated that these health care-associated infections (HAIs) are more often associated with resistant organisms, such as methicillin-resistant Staphylococcus aureus (MRSA), that are more costly to treat and difficult to eradicate. Accordingly, resistant organism infection is linked to increased use of antibiotic therapy, longer intensive care unit (ICU) stays and longer hospitalizations, which increase the possibility of exposure and risk of transmission to other hospitalized patients. Prevention through multimodality infection control efforts has become the focus of our efforts to decrease the threat of HAIs.
- Burn Wound Repair
- Cytokine Response to Thermal Injury
- Neuroinflammatory Response to Wound Repair
- Response to Burn Injury: Role of Melanocortin 1 Receptor in Wound Healing
- Surgical Wound Repair: Effect of Metabolic Memory on Neuro-Endothelial Responses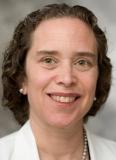 Nicole Gibran, MD
Professor
Director, Burn Center at Harborview Medical Center
Wound repair constitutes an essential component of every surgical subspecialty. The health care system spends millions of dollars annually to apply the latest "goo du jour" onto wounds. But in spite of all we know about response to injury, we still do not offer good solutions to patients with chronic non-healing wounds or with hypertrophic scars and keloids. Our collective efforts have been focused on understanding the response to cutaneous injury for wounds with either insufficient or exuberant responses.
Burn Wound Repair
With increased patient survival following burn injuries, rehabilitation and problems associated with scarring, such as hypertrophy and itching, become important. Since early civilization, we have been adapting topical treatments for wounds. While the growth factors that we apply to wounds today are more sophisticated than the honey, wine, oil or resins that were used in ancient medical practices, we still do not know what the growth factors do or when they should be applied.
Mesenchymal Stem Cells and Responses to Cutaneous Injury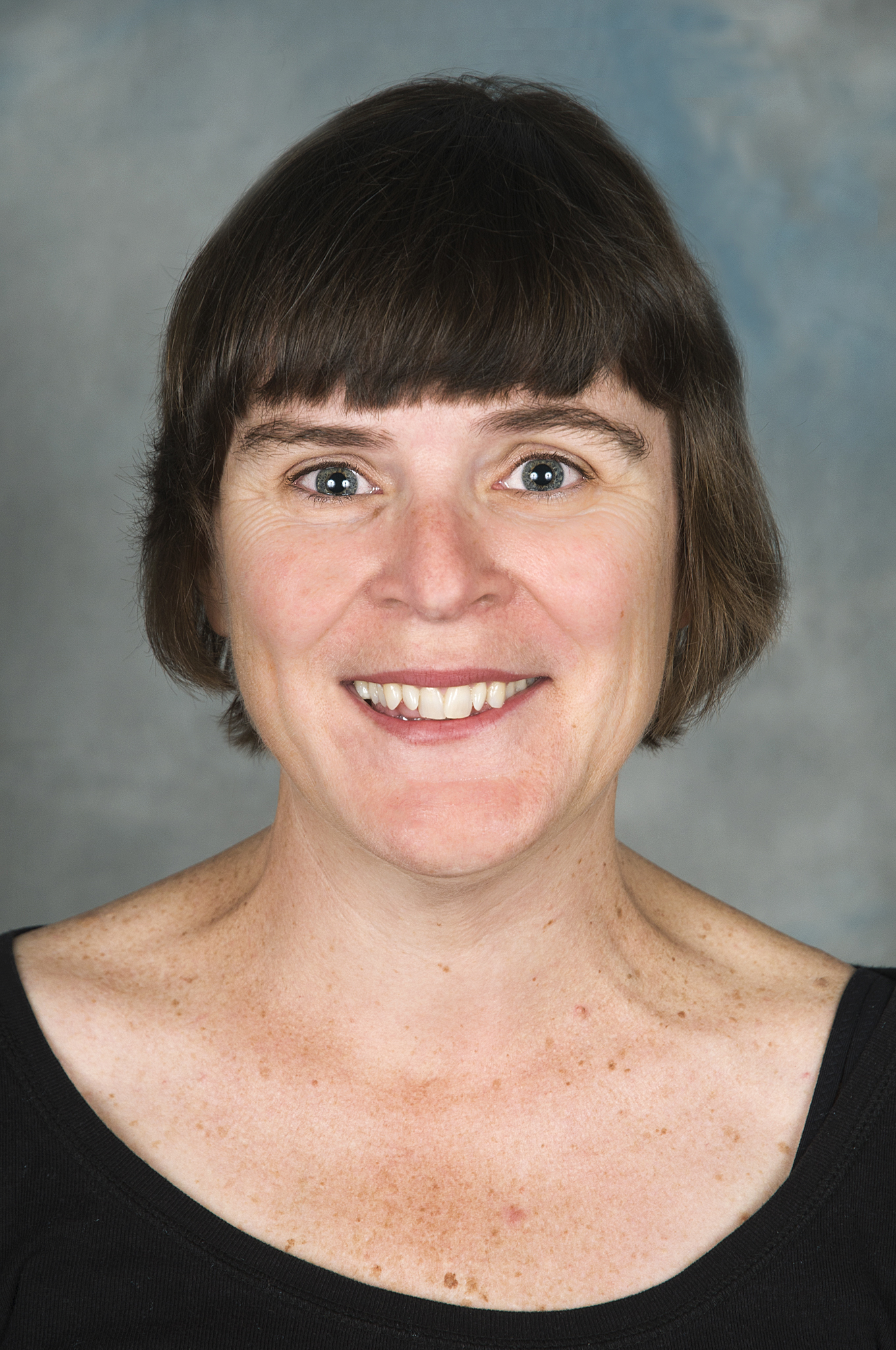 Anne Hocking, PhD
Research Assistant Professor
Despite significant advances in medical and surgical wound care, treatment of wounds that are slow to heal due to either diabetes mellitus or burn injury remains challenging. Conventional treatments of chronic wounds include topical antibiotics, compression bandages and debridement with or without grafting; advanced therapies include application of bioengineered skin substitutes and growth factors. However, resistance of chronic wounds to these therapies is not uncommon. In the event of burn injury, pressure garments, silicone sheeting and steroid injections have shown only limited success in the reduction of hypertrophic scarring. Clearly, new therapies are urgently needed. The long-term goal of our research is to develop stem cell-based therapies that enhance cutaneous responses to injury while promoting regeneration rather than scar formation. Our current objectives are: 1) to determine the impact of the diabetic metabolic environment of high glucose and fatty acids on adult stem cell regulation of the local cellular responses to injury; and 2) to determine whether therapeutically administered adult stem cells reduce hypertrophic scarring by releasing soluble factors that regulate fibroproliferative responses to cutaneous injury.
- National Study on Costs and Effectiveness of Trauma Care
- Washington State Trauma Outcomes Project
- Post-Traumatic Stress Disorder in Trauma Patients
- Triage of Trauma Patients from the Field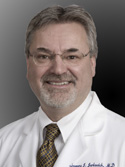 Gregory J. Jurkovich, MD
Professor
Chief, Trauma Service at Harborview Medical Center
National Study on Costs and Effectiveness of Trauma Care
The University of Washington and Johns Hopkins University have been collaborating on the largest extramural grant ever awarded by the National Center for Injury Prevention and Control of the Centers for Disease Control and Prevention (CDC) for the study of injury. This project, titled "The National Study on Costs and Effectiveness of Trauma Center Care," has as its principal investigator at Johns Hopkins University Dr. Ellen MacKenzie, Professor of Health Policy, Senior Associate Dean for Academic Affairs in the School of Public Health, and Director of the Johns Hopkins Center for Injury Research. The Principal Investigators at the University of Washington are Dr. Gregory J. Jurkovich, Professor of Surgery, Chief of Trauma at Harborview, and Director of the Acute Care Section of the Harborview Injury Prevention and Research Center (HIPRC) and Dr. Fred Rivara, George Atkins Professor of Pediatrics and past Director of the Harborview Injury Prevention and Research Center.
- Harborview Injury Prevention and Research Center
- Relationship Between Trauma Center Volume and Outcome
- Splenic Injury
- Clinical Trials in the Surgical Intensive Care Unit
- Modulation of the Inflammatory Response
- Modulation of the Trauma-Related Macrophage Inflammatory Response to Prevent ARDS, MOFS and Death
- Genomic Controlled Phenotypic Response to Severe Injury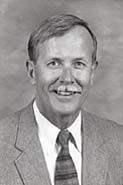 Ronald V. Maier, MD
Professor
Vice Chairman, Department of Surgery
Surgeon-in-Chief at Harborview Medical Center
Director, Northwest Regional Trauma Center
Jane and Donald D. Trunkey Endowed Chair in Trauma Surgery
The Global Burden of Surgical Disease is increasingly recognized as a major impact on the economic health of any country. Within surgical disease, trauma is a major contributor, costing the United States over $250 billion per year. However, since trauma overall consists primarily of minor injuries, and patients at any given institution mostly do well, a sense of accomplishment and under-recognition of the true impact of major trauma is frequently assumed by physicians, the public and our legislators. This, combined with the great challenges involved in developing a high quality detailed physiologic dataset of the impact of severe trauma, has led the non-combatant into believing the war has been won.
Trauma remains a major cause of death and morbidity in America. It is the number one cause of mortality among 1−45-year-olds and is the overall number one cause of loss of productive years of life in America. Death due to injury occurs in three peaks: 1) at the scene; 2) during the acute resuscitation phase; and 3) late, after one to two weeks of ICU support, secondary to multiple organ failure and sepsis. My research focuses on each of these phases. Prevention provides the best means to minimize deaths at the scene and minimize ultimate morbidity. Trauma system developments and improvements in acute care, including optimal resuscitation, will reduce early deaths during the resuscitation phase and minimize subsequent morbidity. Finally, elucidation of the genomic and molecular responses to severe injury will identify treatment targets to prevent the dysregulated autodestructive inflammatory response causing organ dysfunction and death following trauma.
- Pathophysiology of Post-Injury Infection and Organ Failure
- Risk for and Consequences of ICU-related Infections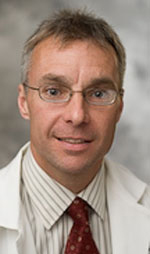 Grant O'Keefe, MD, MPH
Professor
Severe traumatic injury results in biochemical and physiological changes that can lead to nosocomial infection (pneumonia, wound infections, etc.) and remote organ (lung, kidney, liver) failure. In patients who survive beyond the initial few hours after injury, infection and organ failure (MODS; multiple organ dysfunction syndrome) are leading causes of death and contribute to prolonged and resource-intensive hospital stays. Our understanding of the biology of these complications is incomplete. We understand many of the clinical factors that predict who will develop post-traumatic infection and organ failure and know that a number of inflammatory markers are increased after injury and that many of these identify patients who progress to organ failure. For example, and as shown in Figure 1, severely injured patients who develop organ failure (predominantly lung and kidney failure) have greater elevations in circulating interleukin(IL)-6 in the first 24 hours after injury. This is one circulating marker that reflects the systemic physiological response that sets the stage for remote organ failure and infections.
- Older Adults' Responses to Traumatic Injury
- Infections in Critically Ill Burn and Trauma Patients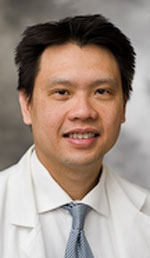 Tam N. Pham, MD
Assistant Professor
With the aging of the U.S. population, traumatic injury in older adults is expected to reach epidemic levels and has already created a major impact on trauma systems. At our Level I Trauma and Regional Burn Center, falls surpassed motor vehicle crashes as the leading cause of trauma deaths for the first time in 2006. The mean age in this group of patients was 69 years old. Approximately 10% of burn patients admitted to our institution are over 60 years of age, but they account for 45% of hospital deaths. Appropriate treatment strategies are therefore critical in order to improve outcomes for injured older adults.
Older Adults' Responses to Traumatic Injury
We seek to better understand why outcomes in older injured adults remain far inferior to those of younger patients. Although trauma centers deliver superior care for the injured, a recent national study found that patients ≥ 55 years did not similarly benefit. Thus, better stratifications of outcomes and improved understanding of aged responses to injury are necessary to develop effective treatment strategies. We have analyzed the National Burn Repository (NBR) to assess risks for complications and excess resource utilization in older adults with burns. Our most recent study highlighted the importance of co-morbidities over chronological age in pneumonia development in older adults with burns. Our ongoing projects focus on practice variations in the care of older patients and post-injury outcomes.
Modified April 2011 - MDH