Two Year Residency Program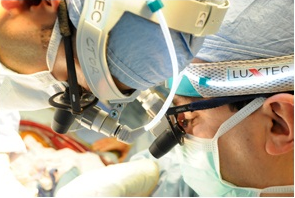 The Cardiothoracic Surgery Residency Program is a two-year program which can provide significant individualization of training between adult cardiac, congenital, transplant, and thoracic surgery. There are approximately 600 adult cardiac cases and 950 thoracic cases performed annually at the University Medical Center, 350 open and closed cardiac cases at Children's Hospital and Medical Center, and 200 adult cardiac and 250 thoracic procedures at The Veterans' Administration Puget Sound Healthcare System.
Three major hospitals are involved in the Cardiothoracic Surgery teaching program:
University of Washington Medical Center

Seattle Children's Hospital and Medical Center

Veteran's Affairs Puget Sound Health Care System
Rotations are also available at Harborview Medical Center for experience in endovascular surgery. The surgical service at each of these hospitals is staffed by the Division of Cardiothoracic Surgery.
How To Apply
UW Cardiothoracic Surgery participates in ERAS (Electronic Residency Application Service), hosted by the Association of American Medical Colleges. We no longer accept paper applications.
For further information on applying to our residency/fellowship program, contact the Program Manager noted on the right side of this page.
Six Year Integrated Residency Program
The primary objective of this Integrated Six Year Cardiothoracic residency is to produce a balanced, well qualified cardiothoracic surgeon prepared for clinical practice or an academic career. The training will include periodic review and evaluation in the six areas of competency as designated by the ACGME and required by the RRC (fund of knowledge, patient care, professionalism, interpersonal skills and communication, practice-based learning and improvement, systems based practice). Each area will carry equal value and a level of performance in each will be required, i.e., technical excellence will not outweigh poor cognitive or attitudinal skills.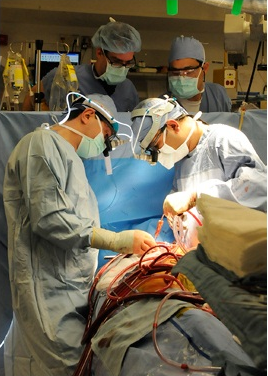 Eligibility
Eligible applicants will be considered based on their individual preparedness, ability, aptitude, academic credentials, communication skills, and personal qualities such as motivation and integrity.
USMLE step 1 and step 2 exams must be completed.
Applicants must be a graduate of a US or Canadian medical school accredited by the Liaison Committee on Medical Education (LCME) or otherwise be qualified as specified as follows:
A graduate of a US college of osteopathic medicine accredited by the American Osteopathic Association (AOA)
A graduate of a medical school outside the United States and Canada who has received a currently valid certificate from the Educational Commission for Foreign Medical Graduates (ECFMG) prior to appointment, or a full and unrestricted license to practice medicine in a US licensing jurisdiction in which they are training.
A graduate of a medical school outside the US who has completed a Fifth Pathway program provided by an LCME-accredited medical school
International Medical Graduates:
Students and graduates of foreign medical schools should view our Certificate Program for International Physicians. This is a pre-requisite for foreign medical school graduates who seek residency positions in our program. Canadian applicants should contact the Canadian Residents Matching Service.
How to Apply
The Division of Cardiothoracic Surgery at the University of Washington is a participating member of the National Resident Matching Program (NRMP) and accepts applications only through the Electronic Residency Application Service (ERAS). Canadian applicants should contact the Canadian Residents Matching Service.
Our NRMP program code is 1918461C0.
Our application deadline for the 2013 residency match is October 20, 2012. 
Interviews
Interviews for 2013 are January 4th &18th. Our interview days are all day Friday from 6:30am-5pm. There is a casual dinner reception that follows, usually at the Division Chief's home.
Vacation Policy
All residents are allowed three weeks (15 working days) annual leave, granted by arrangement with the Program Director.
Health Care Insurance
Opportunities are provided for enrollment in a special group plan. A monthly contribution by the University is applied to group life insurance, long-term disability, and whatever medical plan is elected.
Professional Liability Insurance
Coverage is provided under a University of Washington Master Policy for all approved activities of Housestaff.
More Information
For further information on applying to our residency/fellowship program, contact the Program Manager listed in the Residency/Fellowship sidebar on the right side of this page.
Modified October 2012 - MDH
Cardiothoracic
Residency >>
Douglas Wood, MD, Director

Delloney Wallyce, Manager
206-685-8644
Email:This email address is being protected from spambots. You need JavaScript enabled to view it. This email address is being protected from spambots. You need JavaScript enabled to view it.