500th Heart and 500th Lung Transplants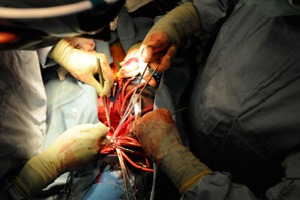 Surgeons at the UW Medical Center have now successfully completed 500 heart and lung transplants. KING 5's Lori Matsukawa was there to meet their latest patients. Watch the Video >>
UW Medicine heart and lung surgeons and the 500th heart and 500th lung transplant recipients, including:
Karla Cox, 55, Tri-Cities, UWMC's 500th lung transplant recipient
Nicholas Bear, 24, Everett, UWMC's 500th heart transplant recipient
Dr. Michael Mulligan
, Cox's surgeon and UW associate professor, Cardiothoracic Surgery, UWMC
Dr. Gabriel Aldea
, Bear's surgeon and UW professor of surgery, Cardiothoracic Surgery, UWMC
Dr. Nahush Mokadam
, Surgical Director, Heart Transplantation and Mechanical Circulatory Support, UWMC.
Founded in 1959, the UW Medical Center has been a leader in organ transplantation in the Northwest for nearly 42 years. The first kidney transplant in the region took place at UWMC in 1968, the first heart transplant in 1985, the first liver transplant in 1990, the first pancreas-only transplant in 1991, and the first lung transplant in 1992.