It's More Than Skin Deep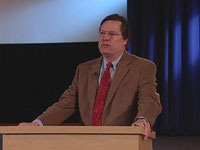 Trauma and infection can destroy the body's most complex systems. Rebuilding nerves, blood vessels, tissues, skin and bones is an intricate process – and a challenge UW Medicine physicians conquer every day.
Warning: This program includes explicit medical and anatomical footage of scientific interest which may be upsetting to some viewers.
This is a two part video series with Dr. Hugh Foy, Professor, Trauma & Burn Division and Dr. Matthew Klein, Associate Professor, Plastic Surgery Division.