PLASTIC SURGERY
DIVISION OVERVIEW
The Division of Plastic Surgery focuses on patient care, teaching, and research. Our faculty members, residents, fellows, and visiting scientists provide services through the UW's four affiliated hospitals: University Hospital Medical Center (UWMC); Harborview Medical Center (HMC); Seattle Children's Hospital (SCH); and the Veterans Affairs Puget Sound Health Care System (VAPSHCS). Patient care, teaching, and research activities focus on burns, hand surgery, microsurgery, craniofacial surgery, breast reconstruction, and all aspects of reconstructive and cosmetic plastic surgery.
Reconstructive Surgery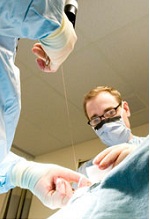 Physicians at the UW Medicine Center for Reconstructive Surgery understand how important your body is to you. Our mission is to restore its form and function to the greatest possible extent for patients whose bodies are changed by disease, trauma or congenital deformity. We also provide cosmetic surgery to patients who want to transform their appearance.

Deep knowledge of anatomy guides our surgeons to recognize bodies' structural and functional deficits, and locate replacement tissues, such as skin, blood vessels, muscles, tendons and fat, that best match the need. Our surgeons perform complex microvascular surgeries in which a flap of skin and underlying tissue is moved, with blood vessels intact, to a new site. Such procedures give patients the best chance for restored function, sensation and appearance and require expertise not broadly available in the Pacific Northwest.


Our team specializes in repairing complex and large wounds that result from trauma or cancer's removal. This includes reconstruction of the head and neck, thrum and extremities. As a center of excellence for breast and nipple reconstruction, we care for cancer patients after mastectomy to restore lost form. Our surgeons routinely perform the deep inferior epigastric perforator (DIEP) flap for breast reconstruction, which uses patients' own tissue while preserving abdominal muscle.
Top Headline
Other Headlines
Research Highlights
Top Headline
Other Headlines
The UW Regional Burn Center Burn Outcomes Research Program

By Matthew B. Klein, MD, MS

The mission of the UW Regional Burn Center burn outcomes research program is to improve the lives of those who survive burn injury by optimizing acute care treatment and long-term psychosocial and functional outcomes. Our research program has been supported over the years by funds from the National Institutes of Health (NIH), Washington State Council of Firefighters Foundation, the International...
Read More...
The Division of Plastic Surgery continues to grow and expand in all three of our academic missions: patient care, education, and research. Read More >>
• Nicholas Vedder, MD, Chief
Program Contacts
Jeffrey Friedrich, MD, Director
Mark J. Cumpston, Manager
206-744-2868
206-744-3656 (Fax)
Email:
mjc35@uw.edu
Mailing Address
Mail Stop #359796
Harborview Medical Center
325 9th Ave.
Seattle, WA 98104
Program Contacts
Nicole Gibran, MD, Director
Ann Haven, Manager
206-744-3140
Email: ahaven@uw.edu
Program Contacts
Richard Hopper, MD, Director
Tiffany McCullough, Manager
206-987-6504
Email: tiffany.mccullough@
seattlechildrens.org
Program Contacts
Trixie Rombouts, Manager
206-598-0395
Email: btrxe@uw.edu
More Information >>
Program Contacts
Hakim K. Said, MD, Director
Kate Rimmer, Manager
206-543-5516
Email: krimmer@uw.edu
Mailing Address
Please use Plastic Surgery UWMC Admin address.


Also In The News
Top Headline
Other Headlines

Dr. Raymond Tse joined the Division of Plastic Surgery in November as an Assistant Professor. Dr. Tse's clinical...
Read More...