Plastic Surgery Education
The Division of Plastic Surgery is committed to developing surgical skills among residents and faculty. Our conferences educate students, residents, fellows and faculty. They showcase Division and other visiting faculty and foster camaraderie within the Department of Surgery as well as the local surgical community. We strive for an exciting environment that fosters the intellectual development of students, residents, fellows and practicing physicians alike. Our motto is: Examine, critically analyze, and change what needs to be changed.
The University Of Washington Division Of Plastic Surgery matches senior medical students to a six-year, integrated Plastic Surgery program. In the first three years much of the experience will be the same as those for categorical General Surgery residents, but with added experiences in areas pertinent to Plastic Surgery. The last three years are solely devoted to Plastic Surgery.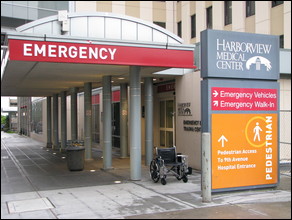 The goal of the Plastic Surgery program is to train Plastic Surgeons in all four parts of academic medicine: patient care, medical education, medical research and administration.
The Plastic Surgery program, like the Surgery program, utilizes four University-affiliated hospitals. In addition, the program for the Division of Plastic Surgery includes a 4 month rotation in a private office and rotations to a community practice during the first three years. The hospitals include the University of Washington Medical Center (UWMC), Harborview Medical Center (HMC), the Seattle Veterans' Administration Puget Sound Health Care System (VA), and Seattle Children's Hospital (SCH).
The Burn Fellowship at Harborview Medical Center is a one year clinical fellowship with an additional optional one or two years of basic research. The burn fellow functions as a junior attending participating in all aspects of burn care. More Information >>
---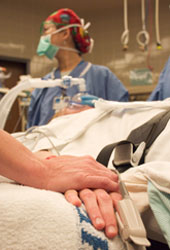 The University of Washington Hand Surgery Program covers the affiliated University hospitals, which include the University of Washington Medical Center, Harborview Medical Center, and Children's Hospital Medical Center.
The Hand Surgery Program is a cooperative effort by the Department of Orthopedic Surgery and the Division of Plastic Surgery. Residents from both Orthopedic Surgery and Plastic Surgery also take part in the Hand Surgery Program. For a complete description of the Hand Surgery Fellowship please visit the Orthopedics Website >>
---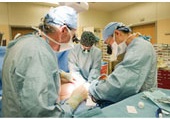 This fellowship program is non-ACGME and non-accredited. The microsurgery fellowship is based on a large clinical referral base from five states. The fellowship educational experience is intrinsically linked to the UW Medicine Center for Reconstructive Surgery, a multi-disciplinary team with coordinated clinical and academic activities. More Information >>
---
The pediatric, carniofacial, maxillofacial surgery fellowship program is managed by the Pediatric Surgery Division and more information regarding this fellowship can be found at the Pediatric Surgery Fellowship page >>
Program Contacts
Jeffrey Friedrich, MD, Director
Mark J. Cumpston, Manager
206-744-2868
206-744-3656 (Fax)
Email:
mjc35@uw.edu
Mailing Address
Mail Stop #359796
Harborview Medical Center
325 9th Ave.
Seattle, WA 98104
Program Contacts
Nicole Gibran, MD, Director
Ann Haven, Manager
206-744-3140
Email: ahaven@uw.edu
Program Contacts
Richard Hopper, MD, Director
Tiffany McCullough, Manager
206-987-6504
Email: tiffany.mccullough@
seattlechildrens.org
Program Contacts
Trixie Rombouts, Manager
206-598-0395
Email: btrxe@uw.edu
More Information >>
Program Contacts
Hakim K. Said, MD, Director
Kate Rimmer, Manager
206-543-5516
Email: krimmer@uw.edu
Mailing Address
Please use Plastic Surgery UWMC Admin address.