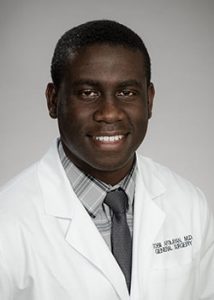 Email:
Hometown:
Fontana, CA
Undergraduate School:
University of California-Riverside
Medical School:
Loma Linda University School of Medicine
Resident Bio:
I attended the University of California-Riverside and received my Bachelor's degree in biology in 2011. I earned my medical degree at Loma Linda University, California in 2016. I have a clinical interest in thoracic surgery with special interest in surgical education in third world countries.
Personal Interests:
Computer engineering and repair, hiking, listening to audio books
Clinical Interests:
Thoracic oncology, robotic thoracic surgery
Publications:
Berfield KS, Afolayan OA, Wood DE. Management of Small Lung Nodules in the Era of Lung Cancer Screening. JAMA Surg. 2018.
Afolayan O, Copeland H, Zaheer S, Wallen JM. Pulmonary Mucormycosis Treated With Lobectomy. Ann Thorac Surg. 2017 Jun;103(6):e531-e533. doi: 10.1016/j.athoracsur.2017.01.102.
Afolayan O, Copeland H, Hargrove R, Zaheer S and Wallen J. Successful treatment of invasive pulmonary mucormycosis in an immunocompromised patient. Ann Thorac Surg. 2016 Apr;101(4):e117-9. doi: 10.1016/j.athoracsur.2015.09.098.