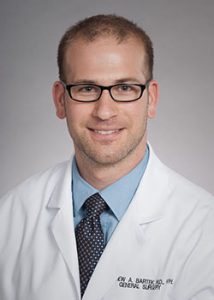 Email:
Hometown:
Newton, MA
Undergraduate School:
Harvard T.H. Chan School of Public Health
Medical School:
University of Massachusetts Medical School
Resident Bio:
I'm from Boston, went to college in New Hampshire, medical school and public health school in Massachusetts and have lived in Washington, DC, Nicaragua, Puerto Rico, and Peru in the interim. I'm passionate about the intersections of public health and surgery. I came to UW because of its excellent clinical training, open support for global surgery, and, most of all, because of the co-residents whom I met that are an integral part of the training experience. In addition, I love Seattle-mountains on three sides, ocean, islands, etc.
Personal Interests:
Skiing, hiking, biking, photography, legos, logic puzzles.
Clinical Interests:
Surgical technology, Palliative care.
Professional Activities:
I plan to work as a general surgeon following graduation and plan to pursue further training in palliative care and minimally invasive techniques.
Why UW?
This is a unique training environment. On the on hand, it's a large, highly academic institution. On the other hand, many of the graduating chief residents are ready for work as general surgeons in the community. We are the referral center for a catchment area that requires a network of "fixed wings" (read: planes) and helicopters to service Alaska, Wyoming, Idaho, Montana, and Eastern Washington and so there are unique lessons and skills that are gained from caring for patients that are not local. Finally, it's a supportive and innovative department.
What advice do you have for incoming interns?
Take notes early on and study a little bit each day to master the craft.
What do you like best about living in Seattle?
What's not to like? Mountains on 3 sides, ocean, islands…it's like nature's playground with a modern city in the middle.
Publications:
PubMed Bibliography, available at: http://bartek.link/publications
Edman NI, Bartek MA, Kang PC, & SweetMP (2021). Anatomic Eligibility for Commercial Branched Endograft Repair of Thoracoabdominal Aortic Aneurysms. Annals of Vascular Surgery, 70, 481–490. https://doi.org/10.1016/j.avsg.2020.06.032
Verdial FC, Bartek MA, Anderson BO, Javid SH (2020). Genetic Testing for Hereditary Breast Cancer: Stratified but Underutilized Among High Risk Patients. (Accepted for publication in J Surg Oncol on December 27, 2020)
Kang, PC, Bartek MA, Shalhub S, Nathan DP, Sweet MP (2019). Survival and Patient-Centered Outcome in a Disease-Based Observational Cohort Study of Patients with Thoracoabdominal Aortic Aneurysm. Journal of Vascular Surgery, 70(5), 1427–1435. https://doi.org/10.1016/j.jvs.2019.02.033
Bartek MA, Saxena RC, Solomon S, Fong CT, Lang JD, Nair BG, Velagapudi K (2019). Accurately Predicting Case-Time Duration: In reply to Dexter and Epstein. Journal of the American College of Surgeons, 229(6), 634–635. https://doi.org/10.1016/j.jamcollsurg.2019.09.005
Bartek MA, Kessler LG, Talbott JM, Nguyen J, Shalhub S (2019). Washington State Abdominal Aortic Aneurysm-Related Mortality Ahows a Steady Decline Between 1996 and 2016. Journal of Vascular Surgery, 1–8. https://doi.org/10.1016/j.jvs.2018.12.040
Bartek MA, Saxena RC, Solomon S, Fong CT, Behara LD, Venigandla R, Velagapudi K, Lang JD, Nair BG (2019). Improving Operating Room Efficiency: Machine Learning Approach to Predict Case-Time Duration. Journal of the American College of Surgeons, 229(4), 346-354.e3. https://doi.org/10.1016/j.jamcollsurg.2019.05.029
Taylor AP, Freeman RV, Bartek MA, Shalhub S (2018). Left Ventricular Hypertrophy is a Possible Biomarker for Early Mortality After Type B Aortic Dissection. Journal of Vascular Surgery, 1–9. https://doi.org/10.1016/j.jvs.2018.09.050
Bartek M, Verdial F, Dellinger EP (2018). Reply to Hambraeus and Lytsy. Clinical Infectious Diseases: An Official Publication of the Infectious Diseases Society of America, 67(1), 159–160. https://doi.org/10.1093/cid/ciy061
Verdial F, Bartek M, Dellinger EP. (2018). Reply to Williams et al. Clinical Infectious Diseases: An Official Publication of the Infectious Diseases Society of America, 67(9), 1471–1472. https://doi.org/10.1093/cid/ciy367
Bartek MA, Truitt AR, Widmer-Rodriguez S, Tuia J, Bauer ZA, Comstock BA, Lavallee DC (2017). The Promise and Pitfalls of Using Crowdsourcing in Research Prioritization for Back Pain: Cross-Sectional Surveys. Journal of Medical Internet Research, 19(10), e341. https://doi.org/10.2196/jmir.8821
Bartek M, Verdial F, Dellinger EP (2017). Naked Surgeons? The Debate About What to Wear in the O.R. Clinical Infectious Diseases, 65(9), 1589–1592. https://doi.org/10.1093/cid/cix498
Thornblade LW, Bartek MA, Verdial FC, Davidson GH, Flum DR (2017). Safety of Expectant Management for Adhesive Small Bowel Obstruction: A Systematic Review. Journal of the American College of Surgeons, 225(4), e97. https://doi.org/10.1016/j.jamcollsurg.2017.07.787
Tomashek KM, Gregory CJ, Rivera Sánchez A, Bartek MA, Garcia Rivera EJ, Hunsperger E, Sun W (2012). Dengue Deaths in Puerto Rico: Lessons Learned from the 2007 Epidemic. PLoS Neglected Tropical Diseases, 6(4), e1614. https://doi.org/10.1371/journal.pntd.0001614
Bartek M, Wang X, Wells W, Paulsen KD, Pogue BW (2006). Estimation of Subcellular Particle Size Histograms with Electron Microscopy for Prediction of Optical Scattering in Breast Tissue. Journal of Biomedical Optics, 11(6), 064007. https://doi.org/10.1117/1.2398903