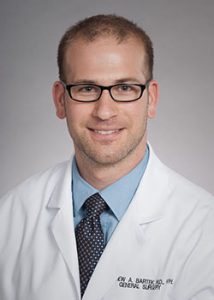 Email:
Hometown:
Newton, MA
Undergraduate School:
Dartmouth College
Medical School:
University of Massachusetts
Resident Bio:
I'm from Boston, went to college in New Hampshire, medical school and public health school in Massachusetts and have lived in Washington, DC, Nicaragua, Puerto Rico, and Peru in the interim. I'm passionate about the intersections of public health and surgery. I came to UW because of its excellent clinical training, open support for global surgery, and, most of all, because of the co-residents whom I met that are an integral part of the training experience. In addition, I love Seattle-mountains on three sides, ocean, islands, etc.
Personal Interests:
Skiing, guitar, biking, technology, spending time with my family
Clinical Interests:
Minimally Invasive Surgery General Surgery
Professional Activities:
T32 Research Fellow at SORCE
Publications:
Kang, P. C., Bartek, M. A., Shalhub, S., Nathan, D. P., & Sweet, M. P. (2019). Survival and patient-centered outcome in a disease-based observational cohort study of patients with thoracoabdominal aortic aneurysm. Journal of Vascular Surgery, 70(5), 1427–1435. https://doi.org/10.1016/j.jvs.2019.02.033
Bartek, M. A., Saxena, R. C., Solomon, S., Fong, C. T., Lang, J. D., Nair, B. G., … Velagapudi, K. (2019). Accurately Predicting Case-Time Duration: In reply to Dexter and Epstein. Journal of the American College of Surgeons, 229(6), 634–635. https://doi.org/10.1016/j.jamcollsurg.2019.09.005
Bartek, M. A., Saxena, R. C., Solomon, S., Fong, C. T., Behara, L. D., Venigandla, R., … Nair, B. G. (2019). Improving Operating Room Efficiency: Machine Learning Approach to Predict Case-Time Duration. Journal of the American College of Surgeons, 229(4), 346-354.e3. https://doi.org/10.1016/j.jamcollsurg.2019.05.029
Bartek, M. A., Kessler, L. G., Talbott, J. M., Nguyen, J., & Shalhub, S. (2019). Washington State abdominal aortic aneurysm-related mortality shows a steady decline between 1996 and 2016. Journal of Vascular Surgery, 1–8. https://doi.org/10.1016/j.jvs.2018.12.040
Bartek, M., Verdial, F., & Patchen Dellinger, E. (2018). Reply to Hambraeus and Lytsy. Clinical Infectious Diseases : An Official Publication of the Infectious Diseases Society of America, 67(1), 159–160. https://doi.org/10.1093/cid/ciy061
Verdial, F., Bartek, M., & Dellinger, E. P. (2018). Reply to Williams et al. Clinical Infectious Diseases : An Official Publication of the Infectious Diseases Society of America, 67(9), 1471–1472. https://doi.org/10.1093/cid/ciy367
Taylor, A. P., Freeman, R. V, & Bartek, M. A. (2018). Left ventricular hypertrophy is a possible biomarker for early mortality after type B aortic dissection. Journal of Vascular Surgery, 1–9. https://doi.org/10.1016/j.jvs.2018.09.050
Thornblade, L. W., Bartek, M. A., Verdial, F. C., Davidson, G. H., & Flum, D. R. (2017). Safety of Expectant Management for Adhesive Small Bowel Obstruction: A Systematic Review. Journal of the American College of Surgeons, 225(4), e97. https://doi.org/10.1016/j.jamcollsurg.2017.07.787
Bartek, M. A., Truitt, A. R., Widmer-Rodriguez, S., Tuia, J., Bauer, Z. A., Comstock, B. A., … Lavallee, D. C. (2017). The Promise and Pitfalls of Using Crowdsourcing in Research Prioritization for Back Pain: Cross-Sectional Surveys. Journal of Medical Internet Research, 19(10), e341. https://doi.org/10.2196/jmir.8821
Bartek, M., Verdial, F., & Dellinger, E. P. (2017). Naked Surgeons? The Debate About What to Wear in the O.R. Clinical Infectious Diseases, 65(9), 1589–1592. https://doi.org/10.1093/cid/cix498
Tomashek, K. M., Gregory, C. J., Rivera Sánchez, A., Bartek, M. A., Garcia Rivera, E. J., Hunsperger, E., … Sun, W. (2012). Dengue Deaths in Puerto Rico: Lessons Learned from the 2007 Epidemic. PLoS Neglected Tropical Diseases, 6(4), e1614. https://doi.org/10.1371/journal.pntd.0001614
Bartek, M., Wang, X., Wells, W., Paulsen, K. D. K. D., & Pogue, B. W. B. W. (2006). Estimation of subcellular particle size histograms with electron microscopy for prediction of optical scattering in breast tissue. Journal of Biomedical Optics, 11(6), 064007. https://doi.org/10.1117/1.2398903
For a full list: https://bartek.link/publications