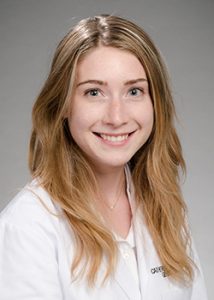 Hometown:
Riverside, CA
Graduate School:
California Institute of Technology
Medical School:
David Geffen School of Medicine at the University of California, Los Angeles
Additional Education:
University of California, Los Angeles
Resident Bio:
Born to engineers and raised in southern California, I first went to graduate school at Caltech before making the transition to medicine. I fell in love with Surgery while in medical school at UCLA – the perfect combination of humanity and engineering – and am proud to have matched at UW for residency. I am passionate about the intersection of medicine and math and am currently a T32 fellow with Dr. Grant O'Keefe researching precision resuscitation of trauma patients in the ICU.
Personal Interests:
I'm married to another resident (soon to be fellow) and we enjoy teaching "A is for Airway" to our two little boys, along with exploring the multitude of parks in Seattle.
Clinical Interests:
Trauma surgery
Pediatric surgery
Surgical critical care
Resuscitation
IV fluids
Professional Activities:
Resident Vice-Chair of Wellness Committee
Resident Co-Chair of ABSITE Committee
Alpha Omega Alpha Honor Society
Gold Humanism Honor Society
Why UW?
I came to UW for the amazing breadth of opportunity. From the only level I trauma center in a 5-state catchment area (Harborview) to a top-tier academic medical center (UWMC) to opportunities at Seattle Children's and the VA, UW had everything I wanted to experience as a surgical trainee.
What advice do you have for incoming interns?
Write everything down. You will think you can remember it, but you won't. And invest a study plan early on. Studying is not just for ABSITE, it will help you every day as a clinician.
What do you like best about living in Seattle?
The coffee, the greenery, and the amazing proximity to nature.
Publications:
Shouhed D, Beni CE, et. al, "Association of Emotional Intelligence With Malpractice Claims", JAMA, 2019;154(3):250-256
Wu JX, Beni CE, Zanocco KA, Sturgeon C, Yeh MW, "Cost-Effectiveness of Long-Term Every Three-Year Versus Annual Postoperative Surveillance for Low-Risk Papillary Thyroid Cancer", Thyroid, 2015;25(7):797-803.
Nacev A, Beni CE, Bruno OP, Shapiro B, "Magnetic nanoparticle transport within flowing blood and into surrounding tissue", Nanomedicine, vol. 5, issue 9, pg 1459-1466, 2011
Nacev A, Beni CE, Bruno OP, Shapiro B, "The Behaviors of Ferro-Magnetic Nano-Particles In and Around Blood Vessels under Applied Magnetic Fields", Journal of Magnetism and Magnetic Materials, vol. 323, issue 6, pg 651-­‐668, 2011