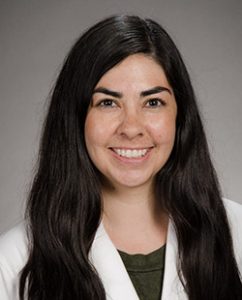 Hometown:
Taos Pueblo, NM & Point Reyes Station, CA
Medical School:
University of Arizona College of Medicine – Tucson
Bio:
I grew up on the Taos and Jemez Pueblo reservations in northern New Mexico. My experiences as a child inspired me to pursue a career in medicine. I attended the University of Arizona College of Medicine in Tucson, AZ. I was very lucky to have had mentors who helped foster my passion for American Indian healthcare and surgery. As an Integrated Vascular Surgery Resident, I am passionate about diabetes-related vascular disease, women's health, and eliminating healthcare disparities.
Personal Interests:
Mountain biking, hiking, snowboarding, peloton, and rock climbing.
Clinical Interests:
Limb salvage, venous disease, vascular trauma, cerebrovascular disease, complex aortic disease, trauma-informed care, healthcare disparities, health equity.
Professional Activities:
Association of American Indian Physicians member
Why UW?
The University of Washington Vascular Surgery Residency program is one of the top training programs in the country. There is excellent mentorship, research opportunities, well rounded experiences at each hospital, and the faculty genuinely care about the residents and fellows.
What advice do you have for incoming interns?
Remember to breathe, ask for help, write down everything, stay on task and always put the patient first. Be kind and listen. Lastly, remember to take care of yourself during this marathon called residency.
What do you like best about living in Seattle?
Seattle is a beautiful city surrounded by lakes and mountains. If you enjoy the outdoors, there is no better place to go to residency.