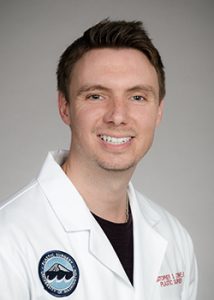 Hometown:
Danville, CA
Graduate School:
University of California Santa Barbara
Medical School:
Stanford University
Bio:
I grew up in the San Francisco Bay Area, attended college at UC Santa Barbara, and later returned to Northern California for medical school at Stanford University. While at Stanford, I pursued a dedicated research year in the hand surgery laboratory of James Chang formulating a collagen hydrogel for treatment of tendon injuries and implementing its use in a rat model. In 2016, I matched into the Plastic and Reconstructive residency program at the University of Washington.
I have continued to conduct research while in residency, reflecting my clinical interest in upper and lower extremity limb salvage, nerve surgery, and pediatric plastic surgery. I work closely with the Institute of Health Metrics and Evaluation at the University of Washington using the Global Burden of Disease Study to perform epidemiological research related to the global burden of several reconstructable disease processes (e.g. digit amputations, orofacial clefts, burn injury, and facial fractures).
Medical education remains a focus of my academic career. I serve as a resident member on the Plastic Surgery program review and educational conference committees. I have also been appointed as the resident member of the ACGME Residency Review Committee for Plastic Surgery for the 2020-2022 term. I will be applying to hand surgery fellowships and plans to obtain additional training in pediatric and congenital hand surgery.
Personal Interests:
Cooking, coffee, exploring the Seattle's many restaurants and local brew scene, skiing, collecting vinyl
Clinical Interests:
Adult and pediatric hand surgery, lower extremity reconstruction
Publications:
Crowe CS, Massenburg BB, Morrison SD, et al. Global trends of hand and wrist trauma: A systematic analysis of the Global Burden of Disease 2017 Study. Inj Prev. 2019; [in press]
GBD 2017 Oral Disorders Collaborators. Global, Regional, and National Levels and Trends in Burden of Oral Conditions from 1990 to 2017: A Systematic Analysis for the Global Burden of Disease 2017 Study. J Dent Res. 2020; [Epub ahead of print]
GBD 2017 Facial Fractures Collaborators. Epidemiology of Facial Fractures: Incidence, Prevalence, and Years Lived with Disability Estimates from the Global Burden of Disease 2017 Study. Inj Prev. 2020; [Epub ahead of print]
GBD 2017 Fire Injury Collaborators. Epidemiology of injuries from fire, heat and hot substances: global, regional and national morbidity and mortality estimates from the Global Burden of Disease 2017 study. Inj Prev. 2019; [Epub ahead of print]
Latack K, Adidharma W, Nolan IT, Crowe CS, Sowder LL, Satterwhite T, Morrison SD. Staying on Top of Breast Implant Illness: Analysis of Chest Feminization Experiences. Plast Reconstr Surg. 2019; [Epub ahead of print]
Massie JP, Cho DY, Kneib CJ, Burns JR, Crowe CS, Lane M, Shakir A, Sobol DL, Satterwhite T, Sabin J, Sousa JD, Rodriguez ED, Morrison SD. Patient Representation in Medical Literature: Are We Appropriately Depicting Diversity?. Plast Reconstr Surg Global Open; 2019;7(12):e2563
Crowe CS, Yu J, Fisher SF, Friedrich JB. Immediate Non-Thumb Digit Transposition after Hand Trauma: Historical Perspective and Case Report. J Hand Surg Global Open. 2019;1(4):249-251.Crowe CS, Massenburg BB, Morrison SD, Naghavi M, Pham TN, Gibran NS. Trends of Burn Injury in the United States: 1990-2016. Ann Surg. 2019;270(6):944-953.
Crowe CS, Cho DY, Kneib CJ, Morrison SD, Friedrich JB, Keys KA. Strategies for Reconstruction of the Plantar Surface of the Foot: A Systematic Review of the Literature. Plast Reconstr Surg. 2019;143(4):1223-1244.
Crowe CS, Impastato KA, Donaghy AC, Earl C, Friedly JL, Keys KA. Prosthetic and orthotic options for lower extremity amputation and reconstruction. Plastic and Aesthetic Research. 2019; Plast Aesthet Res. 2019;6:4.
Global Burden of Disease Health Financing Collaborators. Past, present, and future of global health financing: a review of development assistance, government, out-of-pocket, and other private spending on health for 195 countries, 1995-2050. Lancet. 2019; 393(10187):2233-2260.
GBD 2016 Traumatic Brain Injury and Spinal Cord Injury Collaborators. Global, regional, and national burden of traumatic brain injury and spinal cord injury, 1990-2016: a systematic analysis for the Global Burden of Disease Study 2016. Lancet Neurol. 2019;18(1):56-87.
GBD 2016 Occupational Carcinogens Collaborators. Global and regional burden of cancer in 2016 arising from occupational exposure to selected carcinogens: a systematic analysis for the Global Burden of Disease Study 2016. Occup Environ Med. 2020;77(3):151-159.
Nolan IT, Morrison SD, Arowojolu O, Crowe CS, Massie JP, Adler RK, Chaiet SR, Francis DO. The Role of Voice Therapy and Phonosurgery in Transgender Vocal Feminization. J Craniofac Surg. 2019;30(5):1368-1375
GBD 2017 SDG Collaborators. Measuring progress from 1990 to 2017 and projecting attainment to 2030 of the health-related Sustainable Development Goals for 195 countries and territories: a systematic analysis for the Global Burden of Disease Study. Lancet. 2018;392(10159):2091-2138.
GBD 2017 Causes of Death Collaborators. Global, regional, and national age-sex-specific mortality for 282 causes of death in 195 countries and territories, 1980-2017: a systematic analysis for the Global Burden of Disease Study 2017. Lancet. 2018;392(10159):1736-1788.
GBD 2017 Mortality Collaborators. Global, regional, and national age-sex-specific mortality and life expectancy, 1950-2017: a systematic analysis for the Global Burden of Disease Study 2017. Lancet. 2018;392(10159):1684-1735