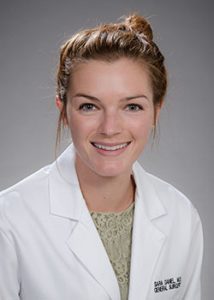 Email:
Hometown:
Seminole, FL
Undergraduate School:
University of Florida
Medical School:
University of Virginia
Resident Bio:
I grew up in Florida and and went to medical school in Virginia before deciding to move as far away as possible for residency with my now husband (who is not in medicine). We love it here on the West Coast, I'm so glad I chose UW for general surgery residency.
Personal Interests:
Hiking, Baking, Gardening, Ultimate Frisbee
Clinical Interests:
Surgical Oncology, Surgical Education
Professional Activities:
Alpha Omega Alpha
Phi Beta Kappa
Publications:
Mullen MG, LaPar DJ, Daniel SK, Turrentine FE, Hanks JB, Smith PW. Risk Factors for 30-Day Hospital Readmission Following Thyroidectomy and Parathyroidectomy in the United States: An Analysis of National Surgical Quality Improvement Program (NSQIP) Outcomes. Surgery. Dec;156(6):1423-1431.
Daniel SK, Lansang MC, Okun MS. Bone mineral density (BMD) in male patients with Parkinson's disease. Int J Neurosci. 2012 Sep;122(9):523-7.