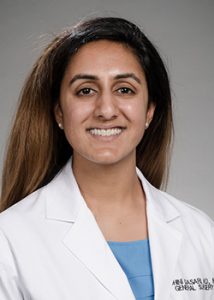 Email:
Hometown:
Sharon, MA
Undergraduate School:
Rice University
Medical School:
University of Pittsburgh
Resident Bio:
I was born and grew up in Massachusetts, except for 2 years during grade school when I lived in India. I spent a year between my 3rd and 4th years in medical school doing global surgery research in Latin America and got a Master's degree in clinical research during that year. I was drawn to UW because of the amazing residents and faculty here, the wide variety of hospitals at which we train and the natural beauty of the Pacific Northwest. I've made many wonderful friends here in Seattle and also met my fiancé here!
Personal Interests:
Yoga, writing, swimming, Star Trek, trying new restaurants, and making guacamole.
Clinical Interests:
Transplant surgery
Professional Activities:
Association of Women Surgeons
Why UW?
I was drawn to UW for the depth and breadth of clinical experiences across the different hospitals we rotate at; in particular, I was very excited to train and learn at Harborview as a renowned Level 1 trauma center.
What advice do you have for incoming interns?
No matter where you train, it is about what you make of your experiences. Residency is hard, but with the right friends and mentors, it will also be undoubtedly one of the most enriching experiences of your life. Get excited: surgery is awesome!
What do you like best about living in Seattle?
I love being surrounded by water and mountains; the views, even when just driving to and from work, are so beautiful to take in on a daily basis. I also love how dog-friendly this city is!
Publications:
Hurd JR, Emanuels DF, Aarabi S, Dasari M, Starnes BW, Quiroga E, Tran NT, Singh N. Limb Salvage Does Not Predict Functional Limb Outcome After Revascularization for Traumatic Acute Limb Ischemia. Ann Vasc Surg. 2019 Oct 29. pii: S0890-5096(19)30923-9.
Myers SP, Littleton EB, Hill KA, Dasari M, Nicholson KJ, Knab LM, Neal MD, Horvath KD, Krane M, Hamada GG, Rosengart MR. Perceptions Regarding Mentorship Among General Surgery Trainees With Academic Career Intentions. J Surg Educ. 2019 Jul – Aug;76(4):916-923.
GlobalSurg Collaborative. Global variation in anastomosis and end colostomy formation following left-sided colorectal resection. BJS Open. 2019 Feb 28;3(3):403-414.
GlobalSurg Collaborative. Pooled analysis of WHO Surgical Safety Checklist use and mortality after emergency laparotomy. Br J Surg. 2019 Jan;106(2):e103-e112.
GlobalSurg Collaborative. Surgical site infection after gastrointestinal surgery in high-income, middle-income, and low-income countries: a prospective, international, multicentre cohort study. Lancet Infect Dis. 2018 May;18(5):516-525.
Dasari M, David SD, Miller E, Puyana JC, Roy N. Comparative analysis of gender differences in outcomes after trauma in India and the USA: case for standardised coding of injury mechanisms in trauma registries. BMJ Glob Health. 2017 Aug 31;2(2):e000322.
Hill KA, Dasari M, Littleton EB, Hamad GG. How can surgeons facilitate resident intraoperative decision-making? Am J Surg. 2017 Oct;214(4):583-588.
Dasari M, Avgerinos E, Raju S, Tahara R, Chaer RA. Outcomes of iliac vein stents after pregnancy. J Vasc Surg Venous Lymphat Disord. 2017 May;5(3):353-357.
Dasari M, Asturias S, Garbett M, Zargaran E, Machain G, Hameed M, Puyana JC. Implementing Electronic Surgical Registries in Lower-Middle Income Countries: Experiences in Latin America. Ann Glob Health. 2016 Jul – Aug;82(4):639-643.
Dasari M, Wessel CB, Hamad GG. Prophylactic mesh placement for prevention of incisional hernia after open bariatric surgery: a systematic review and meta-analysis. Am J Surg. 2016 Oct;212(4):615-622.
Dasari M, Garbett M, Miller E, Machaín GM, Puyana JC. Implementation of a Hospital Electronic Surgical Registry in a Lower-Middle-Income Country. World J Surg. 2016 Dec;40(12):2840-2846.
Dasari M, Borrero S, Akers AY, Sucato GS, Dick R, Hicks A, Miller E. Barriers to Long-Acting Reversible Contraceptive Uptake Among Homeless Young Women. J Pediatr Adolesc Gynecol. 2016 Apr;29(2):104-10.