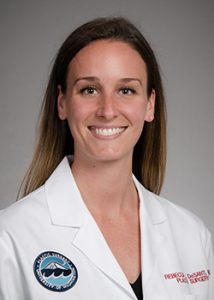 Hometown:
Hampden, MA
Graduate School:
The College of the Holy Cross
Medical School:
Albany Medical College
Resident Bio:
I grew up in a small East Coast town in western Massachusetts named Hampden. I played volleyball, basketball, and softball at Minnechaug Regional High School, and went on to play Division 1 Volleyball for four years at The College of the Holy Cross in Worcester, MA. Thereafter, I worked as a Clinical Research Coordinator at Massachusetts General Hospital for three years in Boston, MA, then moved to upstate New York to attend Albany Medical College for four years for medical school. I then matched into the Plastic Surgery Residency Program at University of Washington and have been enjoying the beautiful Pacific Northwest since.
Personal Interests:
Attending sporting events, playing beach volleyball, wax seal stamping, cooking, traveling, spending time with my family, and honing my green thumb
Clinical Interests:
Plastic surgery
Why UW?
Outstanding education and training with a tight knit community of mentors, faculty, and residents.
What advice do you have for incoming interns?
The hardest thing to do is usually the right thing to do.
What do you like best about living in Seattle?
Charming city set in beautiful greenery and mountains with quaint neighborhoods, delicious food scene, and nearby beaches and lakes.
Publications:
DeSanti, Rebecca L., Nair, Lakshmi, Adetayo, Oluwaseun A. Increasing Diversity in Plastic Surgery. Plastic and Reconstructive Surgery. 2018 November; 142(5): 813-814.
Fazeli, PK, Lawson, EA, Faje, AT, Eddy, KT, Lee, H, Fiedorek, FT, Breggia, A, Gaal, IM, DeSanti, R, Klibanski, A. Treatment With a Ghrelin Agonist in Outpatient Women With Anorexia Nervosa: A Randomized Clinical Trial. Journal of Clinical Psychiatry. 2018 Jan/Feb; 79(1).
Lawson, EA, Marengi DA, DeSanti RL, Holmes TM, Schoenfeld DA, Tolley CJ. Oxytocin reduces caloric intake in men. Obesity. 2015 May; 23(5): 950-956.
Lawson EA, Holsen LM, DeSanti R, Santin M, Meenaghan E, Herzog DB, Goldstein JM, Klibanski A. Increased hypothalamic-pituitary-adrenal drive is associated with decreased appetite and hypoactivation of food-motivation neurocircuitry in anorexia nervosa. European Journal of Endocrinology. 2013 Oct 1; 169(5): 639-647.
Lawson EA, Holsen LM, Santin M, DeSanti R, Meenaghan E, Eddy KT, Herzog DB, Goldstein JM, Klibanski A. Postprandial oxytocin secretion is associated with severity of anxiety and depressive symptoms in anorexia nervosa. Journal of Clinical Psychiatry. 2013 May; 74(5): 451-457.