Sarah Doe-Williams, MS, MD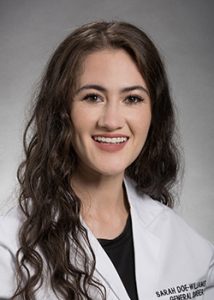 Hometown:
Boise, Idaho, USA
Medical School:
University of Washington
Resident Bio:
I'm a Boise, Idaho native who completed my bachelor's in human biology while dancing on the Mane Line Dance Team at Boise State University. I attended medical school at the University of Washington and became interested in breast oncologic and reconstructive surgery during my third year and also got involved in research involving craniofacial injuries. I am very excited to be staying where I will be supported by amazing mentors all while still enjoying the great outdoors of Washington. I met my husband in undergrad and we have a beautiful eight month old daughter and feisty five year old Yorkie!
Personal Interests:
Dancing; hiking; kayaking; traveling; snowboarding; hanging with my husband and family
Clinical Interests:
breast oncologic and reconstructive surgery, plastic surgery, burn surgery
Professional Activities:
American College of Surgeons; Gold Humanism Honor Society; American Society of Plastic Surgeons; American Medical Association
Why UW?
University of Washington is an amazing program with a great reputation and faculty. I also love the scope of practice and population throughout the WWAMI region.
What do you like best about living in Seattle?
I love living in Seattle for having both the city life and outdoor opportunities available so closely together. I enjoy the breadth of food choices and being able to hike, kayak and appreciate the nature around us.
Publications:
Doe-Williams S, Hixson L, Pfeiffer D. "Massive hepatomegaly secondary to amyloidosis with normal liver chemistries" Case Reports of Gastroenterology, April 2020. 
Doe-Williams S, Stack SW, Kelly KS, Ryan MJ. "A Community Conference: Adverse Childhood Experiences and Their Impact on Substance Use". November 2018. 
Morton S, Seibert P. "The Complex Effects of Sex Differences on Deep Brain Stimulation for Treatment of Parkinson's Disease". April 2015.