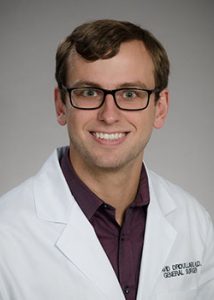 Resident Bio:
Originally from Minnesota, I came to Seattle for general surgery residency after medical school in New York. I am in the 7-year track pursuing an NIH T-32 funded research fellowship at the Surgical Outcomes Research Center (SORCE) and a MS in Health Services through the UW School of Public Health. I am passionate about promoting evidence-based practice in surgical care, and plan to be an academic surgeon and health services researcher. I chose the University of Washington because of the depth and breadth of surgical experience offered at our 6 training sites; the community of amazing co-residents, attendings, and staff, and Seattle's unparalleled access to the great outdoors.
Personal Interests:
Mountaineering, skiing, rock climbing, cycling, and trail running.
Clinical Interests:
General surgery, colorectal surgery, minimally invasive surgery
Professional Activities:
Resident and Associate Society- American College of Surgeons
American Society of Colon and Rectal Surgeons- Resident Member
Surgical Outcomes Club- Resident Member
Publications:
Curtis, J. M., Hahn, W. S., Stone, M. D., Inda, J. J., Droullard, D. J., Kuzmicic, J. P., Bernlohr, D. A. (2012). Protein carbonylation and adipocyte mitochondrial function. J Biol Chem, 287(39), 32967-32980.
Droullard, D., Porter, S., Zuckerman, A., Monie, D., Brendle, J., & Weil, H. (2017). Medical Students Leading Quality Improvement: A Lean Six Sigma Approach to Pain Management. Am J Med Qual, 32(5), 569.
Droullard, D. J., Tinc, P. J., & Sorensen, J. A. (2017). "I Would Go if My Arm Were Hanging off": A Qualitative Study of Healthcare-Seeking Behaviors of Small Farm Owners in Central New York State. J Agric Saf Health, 23(1), 67-81.
Sorensen, J. A., Tinc, P. J., Weil, R., & Droullard, D. (2017). Symbolic Interactionism: A Framework for Understanding Risk-Taking Behaviors in Farm Communities. J Agromedicine, 22(1), 26-35.