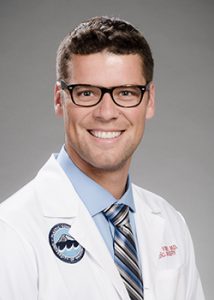 Email:
Hometown:
Omaha, NE
Undergraduate School:
University of Nebraska
Medical School:
University of Chicago
Resident Bio:
I am a midwesterner transplanted to the Pacific Northwest. I was born and raised in Nebraska where I stayed for undergraduate before "escaping" to Chicago for medical school. After many years of crop fields and flat landscapes, I decided I needed the mountains in my life. I couldn't ask for more in a training program-one that balances professional and personal interests.
Personal Interests:
Hiking, skiing, camping
Clinical Interests:
Microsurgery, breast reconstruction
Publications:
Crowe CS, Yu JL, Fisher SM, Friedrich JB. Immediate Non-Thumb Digit Transposition after Hand Trauma: Historical Perspective and Case Report. Journal of Hand Surgery Global Online. 2019(1): 249-251. PMID:
Fisher SM, Teven CM, Song DH. Ergonomics in the Operating Room: The Cervicospinal Health of Today's Surgeons. Plastic and Reconstructive Surgery. 2018;142(5):1380-1387. PMID: 30511995
Lakhiani C, Fisher SM Janhofer DE, Song DH. Ergonomics in Microsurgery. Journal of Surgical Oncology. 2018;118(5):840-844. PMID: 30114332
Ooi A, Butz DR, Fisher SM, Collier ZJ, Gottlieb LJ. The Geometric End-to-Side Microvascular Anastomosis: Technique and Efficacy. Journal of Reconstructive Microsurgery. 2018;34(4):258-263. PMID: 29284163.
Fisher SM, Butz DR, Song DH, Howard MA. Dual Action Fat Transfer to Improve Fat Grafting Efficiency and Viability. Aesthetic Surgery Journal. 2016;36(9):281-283. PMID: 27530765
Lyon SM, Mayampurath A, Rogers MR, Wolfgeher DJ, Fisher SM, Vochenboum SL, He TC, Reid RR. A Novel Method for Isolating Whole Protein from Human Cranial Bone. Analytical Biochemistry.2016; 5(515):33-39. PMID: 27677936
Teven CM, Fisher S, Ameer GA, He T-C, Reid RR. Biomimetic Approaches to Complex Craniofacial Defects. Annals of Maxillofacial Surgery. 2015;5(1): 4-13. PMID: 26389027.
Fisher SM, Song DH. Ergonomics and Health in the OR: A Parallel to Injury and Concussion Prevention in College Athletics. Plastic Surgery Resident. 5 (2016): 7-9.
Fisher SM, Kim J, Song DH. Sternal Debridement and Application of Muscle Flaps. Operative Techniques in Plastic Surgery, KC Chung, ed. Philadelphia, PA, Wolters Kluwer. 2019.