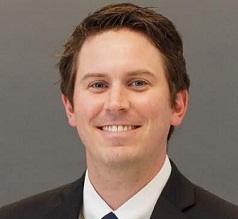 Email:
Hometown:
Newcastle, DE
Medical School:
The Ohio State University College of Medicine
Resident Bio:
I grew up in Puyallup, WA, attended Western Washington University for college, then The Ohio State University College of Medicine for medical school. After my stint in Ohio, I returned to the Pacific Northwest for general surgery residency at Swedish Medical Center. I am excited to now be part of UW Medicine as the vascular surgery fellow.
Personal Interests:
Outside of work I enjoy spending time with my wife and three children. I enjoy the great outdoors and watching and playing sports.
Clinical Interests:
All aspects of vascular surgery
Why UW?
UW vascular offers great experience to complex vascular procedures, the attendings are all engaged in teaching.
What advice do you have for incoming interns?
Intern year is difficult, focus on taking care of patients and learning as much as you can
What do you like best about living in Seattle?
Sunrises over mountains and sunsets over the Puget Sound
Publications:
French B, Johansen, K. Cervical Ribs and Thoracic Outlet Syndrome. JAMA Surgery. Submitted.
Rog CJ, Tupper H, Reiter S, French BL, and Hayes PG. Delayed Presentation of Blunt Inferior Vena Cava Injury Following High Speed Motor Vehicle Collision. Accepted for publication in Trauma April 18, 2020.
French B, Ranguelov R, Johansen K, Tan SL. Ischemic Toe Ulceration Due to Foreign Body Embolus from Hydrophilic Polymer Coated Intravascular Device. Vasc Endovascular Surg. 2019 Oct;53(7):606-
608.
Rog C, French B, Kobayashi E, Tan SL. Cystic Adventitial Disease of the Common Femoral Vein Successfully Treated with Resection, Synthetic Graft Reconstruction, and Fistula Creation. Annals of Vascular Surgery. Accepted October 2019.
Discolo A, Reiter S, French B, Hayes D, Lucas G, Tan L, Martinez R. Outcomes Following Early Versus Delayed Cholecystectomy Performed for Acute Cholangitis. Surgical Endoscopy. 2019 Sept.
Hayes D, Lucas G, Discolo A, French B, Mishra R, Wells S. Endoscopic Transpapillary Stenting for the Management of Acute Cholecystitis. Surgical Endoscopy. Submitted March 2019.
French B, Hayes D. Endovascular Coil Migration into the Intestinal Lumen: Two Cases of Successful Nonoperative Management. Vasc Endovascular Surg. 2019 Feb;53(2):157-159.
French B, Van Essen C, McDonald C, Ting, A. Overuse of Pre-Visit Ultrasound in Patients Referred for Treatment of Inguinal Hernia. Journal of the American Surgeon. 2019 Mar 1;85(3):261-265.
French B, Mandell K, Martinez R. Diagnosis and Treatment of Invasive Aspergillus fumigatus Wound Infection Following Subtotal Colectomy for Perforated Toxic Megacolon in an Immunosuppressed Patient. Wounds. 2018 Oct;30(10):E102-E104.
Reiter S, French B, Holzmer S, Phillips B, Martinez, R. Dropped Gallstones: A Case of Persistent Right Flank Abscess Requiring Surgical Management. The Scientific Pages of Emergency Medicine. 2017 Feb;1(1):11-14.
French BL, Zynger DL. Do Histopathologic Variables Affect the Reporting of Lymphovascular Invasion in Testicular Germ Cell Tumors? Am J Clin Pathol. 2016 Mar;145(3):341-9.