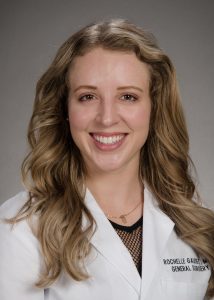 Email:
Hometown:
Vancouver, British Columbia
Undergraduate School:
Dalhousie University
Medical School:
St. James School of Medicine
Resident Bio:
I grew up outside of Vancouver, British Columbia and went to undergrad in Halifax, Nova Scotia. Having an interesting in global health, I went abroad for medical school. I did medical missions in Northern India, and I hope to return after surgical residency.
Personal Interests:
Skiing, yoga, painting/drawing, piano
Clinical Interests:
General and reconstructive surgery
Professional Activities:
Why UW?
University of Washington is a world class surgical program that provides its residents with top training, a variety of research opportunities, excellent mentors, diverse patient populations and hospital environments,
What advice do you have for incoming interns?
Your intern year will include exposure to a wide array of sub-specialties within surgery. Keep an open mind and approach each rotation as if it will be your own specialty one day to get the most out of it. You may be surprised what peaks your interest!
What do you like best about living in Seattle?
The Pacific Northwest is the most beautiful place in the world. The proximity of Seattle to skiing, hiking, and (cold water) surfing beaches is close enough so that study breaks can be spent doing something awesome! Seattle is also home to some amazing restaurants and entertainment venues, it is a great place live.
Publications:
Pre-operative Factors Influencing Outcomes of Appendectomies, Adherence to Mitomycin C use in Bladder Cancer, Misdiagnosis of Fetal Alcohol Syndrome in Adults, Psychology of Craving.