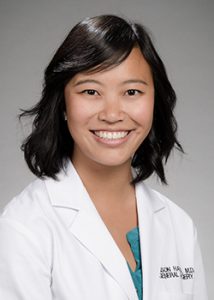 Resident Bio:
I was born and raised in Seattle, spent 4 years on the east coast for undergrad, then came back for med school and stayed for residency. I love the people here and feel lucky to train somewhere with such amazing clinical opportunities and co-residents. And of course being so close to the water and mountains doesn't hurt!
Personal Interests:
Hiking, snacking, rock climbing, arts and crafts. Tortured follower of Seattle sports, and casual observer of Michigan football.
Clinical Interests:
Trauma/critical care, palliative care, thoracic surgery
Publications:
Fudge, Jessie & Harmon, Kimberly & Owens, David & Prutkin, Jordan & Salerno, Jack & Asif, Irfan & Haruta, Alison & Pelto, Hank & Rao, Ashwin & Toresdahl, Brett & Drezner, Jonathan. (2014). Cardiovascular screening in adolescents and young adults: A prospective study comparing the Pre-participation Physical Evaluation Monograph 4th Edition and ECG. British journal of sports medicine. 48. 10.1136/bjsports-2014-093840.