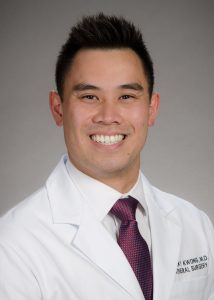 Email:
Undergraduate School:
University of California-Los Angeles
Medical School:
Medical College of Wisconsin-Milwaukee
Resident Bio:
I was born in Singapore and immigrated to northern California with my family when I was 7. I'm the youngest in my family. My father was an engineer and my mother was a piano teacher. My older sister also pursued a career in medicine and is an anesthesiology resident. In college, I was interested in underrepresented populations and wanted to be a social worker. In medical school, I wanted to be a pediatrician but realized that I enjoyed operating and taking care of surgical patients more. I had the honor of having wonderful mentors who helped with through the transition and would not be where I am today if it were not for their guidance. If I were not a doctor, I would open a bakery and make breads, pizzas, and have a fancy espresso machine.
Personal Interests:
Water polo, weightlifting, Costco, cooking/baking/fermenting, wines and whiskeys, thrift shopping.
Clinical Interests:
Pediatric surgery
Professional Activities:
University of Washington Housestaff Quality and Safety Committee
Why UW?
Phenomenal training, resident camaraderie and culture, faculty mentors, and variety of training sites
What advice do you have for incoming interns?
Embrace the challenges and do a little better every day
What do you like best about living in Seattle?
Proximity to the Pacific, natural beauty, exciting and evolving city
Publications:
Kwong JZ, Gray JM, Rein L, Liu Y, Melzer-Lange MD. An educational intervention for medical students to improve self-efficacy in firearm injury prevention counseling. Inj Epidemiol. 2019;6(Suppl 1):27. Published 2019 May 29. doi:10.1186/s40621-019-0201-3.
Richter F, Subramaniam SR, Magen I, et al. A Molecular Tweezer Ameliorates Motor Deficits in Mice Overexpressing α-Synuclein. Neurotherapeutics. 2017;14(4):1107–1119. doi:10.1007/s13311-017-0544-9.