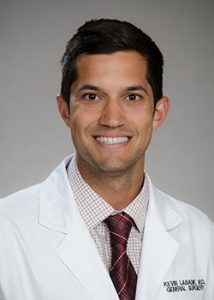 Email:
Hometown:
Sunnyvale, CA
Undergraduate School:
University of California-Santa Barbara
Medical School:
University of California-Irvine
Resident Bio:
I was born and raised in northern California and joined the UW Department of Surgery to bridge two of the most important things to me: meaningful work and outdoor recreation. I recently completed two years of research conducting translational research in oncology advancing therapies for solid gastrointestinal tumors. In my free time, I enjoy exploring the Pacific Northwest and can inform you of the pros/cons of the EPIC vs. IKON ski passes as they pertain to living in Seattle.
Personal Interests:
Skiing, hiking, mountain biking, tennis, Seinfeld
Clinical Interests:
Surgical oncology
Professional Activities:
Alpha Omega Alpha Honor Society
Publications:
Ludwig AD, Labadie KP, Seo YD, et al. Yttrium-90-Labeled Anti-Glypican 3 Radioimmunotherapy Halts Tumor Growth in an Orthotopic Xenograft Model of Hepatocellular Carcinoma. J Oncol. 2019;2019:4564707.
Labadie KP, Schaub SK, Khorsand D, Johnson G, Apisarnthanarax S, Park JO. Multidisciplinary approach for multifocal, bilobar hepatocellular carcinoma: A case report and literature review. World J Hepatol. 2019;11(1):119-126.
Labadie KP, Sullivan KM, Daniel SK, Park JO, Yeung RS. Liver surgery—less is more. Laparosc Surg 2019;3:19.
Daniel SK, Sullivan KM, Labadie KP, Pillarisetty VG. Hypoxia as a barrier to immunotherapy in pancreatic adenocarcinoma. Clin Transl Med. 2019;8(1):10.
Labadie, K. In L In: Le T, Hofmann J, Alemi S, eds. First Aid Step 1 Express videos, 2015 ed. Available at www.usmle-rx.com/ . Published April 2015
Labadie K, Okhunov Z, Akhavein A, et al. Evaluation and comparison of urolithiasis scoring systems used in percutaneous kidney stone surgery. J Urol. 2015;193(1):154-9.
Okhunov Z, Del junco M, Yoon R, Labadie K, Lusch A, Ordon M. In vitro evaluation of LithAssist: a novel combined holmium laser and suction device. J Endourol. 2014;28(8):980-4.
Tailly TO, Okhunov Z, Nadeau BR, Labadie KP et al. Multicenter External Validation and Comparison of Stone Scoring Systems in Predicting Outcomes After Percutaneous Nephrolithotomy. J Endourol. 2016;30(5):594-601