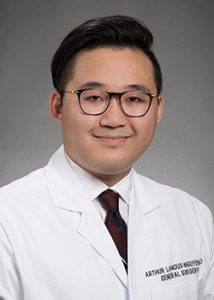 Hometown:
Saint Paul, MN
Medical School:
University of Minnesota
Additional Education:
Harvard College
Resident Bio:
I grew up in Minnesota before heading east for college at Harvard where I studied stem cell biology and visual arts. I returned to the midwest, and worked as a scribe for a year before beginning medical school at the University of Minnesota. I'm excited to move west and begin my surgical training at UW. Outside the hospital, I love to dive into local eats with my wife, experiment with 35mm film, find antique treasures and take our dogs on new adventures. I'm looking forward to exploring the natural beauty and rich culture that Seattle and the Pacific Northwest have to offer.
Personal Interests:
Food, photography, tennis, XC skiing, adventures to new places, and spending time with family and friends.
Clinical Interests:
Surgery, trauma, subspecialty training, quality improvement and patient outcomes research.
Professional Activities:
American College of Surgeons
American Medical Association
Alpha Omega Alpha
Why UW?
UW offers incredible surgical training, diversity in patients, and immense opportunity for personal and professional growth in the beautiful Pacific Northwest.
What advice do you have for incoming interns?
Be proactive, ask questions, and always remember, the hospital staff is your number one resource.
What do you like best about living in Seattle?
Accessibliity to anything that piques your interests, be that new foods, arts, and museums, or endless opportunities to explore nature.
Publications:
Nguyen AS, Thielen BV, Bigliardi P, Farah RS. What you need to know about hand hygiene and dermatitis during the Coronavirus pandemic. Journal of the American Board of Family Medicine. In press.
Nguyen AS, Grossman-Kahn R, Wichser L. Anticipatory clozapine dosing following discharge from inpatient treatment for the patient with co-morbid schizophrenia and tobacco use. Journal of Clinical Psychopharmacology. 2020 Nov/Dec;40(6):618-619. PMID: 33065717.
Nguyen AS, Yang S, Thielen BV, Techar K, Lorenzo RM, Berg C, Palmer C, Gipson JL, West MA, Tignanelli CJ. Clinical decision support intervention and time to imaging in older patients with traumatic brain injury. Journal of the American College of Surgeons. 2020 Sep;231(3):361-367.e2. PMID: 32561447.
Tignanelli CJ, Gipson J, Nguyen A, Martinez R, Yang S, Reicks PL, Sybrant C, Roach R, Thorson M, West MA. Implementation of a prophylactic anticoagulation guideline for patients with traumatic brain injury. The Joint Commission Journal on Quality and Patient Safety. 2020 Apr;46(4):185-191. PMID: 31899154.
Techar K, Nguyen A, Lorenzo RM, Yang S, Thielen B, Cain-Nielsen A, Hemmila MR, Tignanelli CJ. Early imaging associated with improved survival in older patients with mild traumatic brain injuries. Journal of Surgical Research. 2019 Oct;242:4-10. PMID: 31059948.