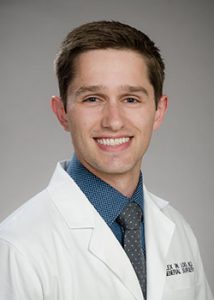 Email:
Hometown:
Kenosha, WI
Undergraduate School:
University of Washington School of Public Health
Medical School:
Medical College of Wisconsin
Resident Bio:
I live in Seattle's Columbia City neighborhood. My wife and I love life in Seattle and enjoy exploring all that the PNW has to offer with our two dogs, Ella and Mac. We are thrilled to be expecting our first child in the fall. I will be returning to the hospital in July to complete my final two years of clinical training before pursuing a fellowship in MIS/Foregut surgery.
Personal Interests:
Hiking, Cycling, Cooking, Skiing, Live Music
Clinical Interests:
Minimally Invasive Surgery, Foregut Surgery, Surgical Outcomes, Surgical Ethics, Informed Consent, Decision-Making,
Professional Activities:
SAGES Conflict of Interest Committee
ACHQC Resident/Fellow Committee
ACS Surgical Outcomes Club Resident Member
ACS Resident Member
SAGES Resident Member
AAS Resident Member
Why UW?
UW offers top-tier clinical training, an expansive breadth of research opportunities, and exceptional resident and faculty colleagues in one of the most picturesque settings in the country. It was an easy decision!
What advice do you have for incoming interns?
Three things: 1) Trust in what you've learned but never be afraid to ask questions if you are unsure. 2) Care for your patients the way your would want your loved ones cared for. 3) Take advantage of your free time outside of the hospital. Everyone needs a break now and then and the PNW has a lot to offer.
What do you like best about living in Seattle?
The beautiful vistas and the accessibility of the mountains. The fantastic food is a bonus!
Publications:
Lois AW, Frelich MJ, Goldblatt MI, Wallace JR, Gould JC. Gastrojejunostomy technique and anastomotic complications in laparoscopic gastric bypass. Surg Obes Relat Dis. 2015 Jul-Aug;11(4):808-13.
Pourladian I, Lois AW, Frelich MJ, Woehlck HJ, Weber M, Kastenmeier AS, Gould JC, Goldblatt MI. Acetazolamide reduces postoperative pain following laparoscopic inguinal herniorrhaphy. Surg Endosc. 2016 Jul;30(7):2685-9
Lois AW, Frelich MJ, Sahr NA, Hohmann SF, Wang T, Gould JC. The relationship between duration of stay and readmissions in patients undergoing bariatric surgery. Surgery. 2015 Aug;158(2):501-7
Lois AW, Ehlers AP, Minneman J, Oh JS, Khandelwal S, Wright AS. Disclosure at #SAGES2018: An analysis of physician-industry relationships of invited speakers at the 2018 SAGES national meeting. Surg Endosc. 2020 Jun;34(6):2644-2650
Lois A, Hantouli MN, Davidson GH, Flum DR (2020) Medical Management of Symptomatic Gallstones: A Narrative Review. J Surg Oper Care 5(1): 105
Labadie KP, Droullard DJ, Lois AW, Daniel SK, McNevin KE, Gonzalez JV, Seo YD, Sullivan KM, Bilodeau KS, Dickerson LK, Utria AF, Calhoun J, Pillarisetty VG, Sham JG, Yeung RS, Park JO. IWATE criteria are associated with perioperative outcomes in robotic hepatectomy: a retrospective review of 225 resections. Surg Endosc. 2021 Feb 19.