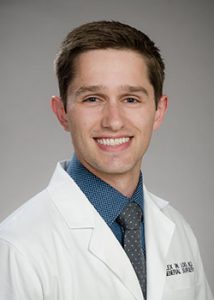 Email:
Hometown:
Kenosha, WI
Undergraduate School:
University of Wisconsin-Madison
Medical School:
Medical College of Wisconsin
Resident Bio:
I live in Seattle's Wallingford neighborhood with my wife, Alyssa. In my free time I love exploring all the Pacific Northwest has to offer with my wife, friends, and black labrador, Ella. I am thrilled to be a part of the University of Washington surgery family. As they say, "The days are long, but the years are short" – and I couldn't ask for a better group of people to spend them with!
Personal Interests:
Hiking, Biking, Skiing, Cooking, Exploring the Pacific Northwest
Clinical Interests:
Minimally Invasive Surgery, Surgical Critical Care, Healthcare Policy
Professional Activities:
American College of Surgeons, Association of Academic Surgeons, Society of American Gastrointestinal and Endoscopic Surgery
Why UW?
I really felt connected with the people at UW. Everyone was very welcoming and very engaged in the program. In addition, the strength of the surgical training, the numerous opportunities for research, and the beautiful PNW combined to make it an easy decision.
What advice do you have for incoming interns?
Take some time for yourself before your starting your intern year.
What do you like best about living in Seattle?
The access to the mountains and surrounding wilderness. There are many great things about Seattle (e.g. the culture, the food, etc.) but having the ability to escape the city and explore the countless trails and numerous ski areas is the clear winner.
Publications:
Lois AW, Frelich MJ, Goldblatt MI, Wallace JR, Gould JC. (2015) Gastrojejunostomy Technique and Anastomotic Complications in Laparoscopic Gastric Bypass. Surg Obes Relat Dis 11(4):807-813
Lois AW, Frelich MJ, Sahr NA, Hohmann SF, Wang T, Gould JC. (2015) The Relationship Between Length of Stay and Readmissions in Bariatric Surgery. Surgery 158(2):501-7
Pourladian I, Lois A, Frelich M, Kastenmeier A, Woehlck H, Goldblatt M. (2016) Acetazolamide Reduces Post-Operative Pain Following Laparoscopic Inguinal Herniorrhaphy. Surg Endosc 30(7):2685-9