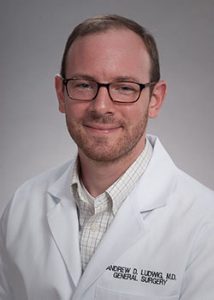 Resident Bio:
I grew up quick with three older brothers in a suburb of Washington, D.C. I headed westward to Texas for college (Rice University), a stint in basic science research (Texas Childrens Hospital), graduate school (UT-Houston), and medical school (UTHSC-San Antonio). My manifest destiny carried me to Seattle with my wife, Alison. Shortly after my arrival here, my daughter Lucy was born (welcome to intern year, here's a baby!). Since then, I have been slowly recovering, with the help of the beautiful PNW.
Personal Interests:
Enjoying the outdoors with my family, enjoying the indoors wood working.
Clinical Interests:
Colorectal Surgery, Colon, Rectal, and Liver Cancer, Wound Infections
Publications:
Ludwig AD, Fichera A. Laparoscopy for rectal cancer: Is the story settled? J Laparoendosc Adv Surg Tech A. 2016 Apr;26(4):302-4
Patterson DM, Gao D, Trahan DN, Johnson BA, Ludwig A, Barbieri E, Chen Z, Diaz-Miron J, Vassilev L, Shohet JM, Kim ES.  Effect of MDM2 and vascular endothelial growth factor inhibition on tumor angiogenesis and metastasis in neuroblastoma.  Angiogenesis. 2011 Sep; 14(3): 255-66.
Shohet JM, Ghosh R, Coarfa C, Ludwig A, Benham AL, Chen Z, Patterson DM, Barbieri E, Mestdagh P, Sikorski DN, Milosavljevic A, Kim ES, Gunaratne PH.  A genome-wide search for promoters that respond to increased MYCN reveals both new oncogenic and tumor suppressor microRNAs associated with aggressive neuroblastoma. Cancer Res. 2011 Jun 1; 71(11): 3841-51.
Shang X, Vasudevan SA, Yu Y, Ge N, Ludwig AD, Wesson CL, Wang K, Burlingame SM, Zhao YJ, Rao PH, Lu X, Russell HV, Okcu MF, Hicks MJ, Shohet JM, Donehower LA, Nuchtern JG, Yang J.  Dual-specificity phosphatase 26 is a novel p53 phosphatase and inhibits p53 tumor suppressor functions in human neuroblastoma.  Oncogene. 2010 Sep 2; 29(35): 4938-46.
Chen Z, Lin Y, Barbieri E, Burlingame S, Hicks J, Ludwig A, Shohet JM.  Mdm2 deficiency suppresses MYCN-Driven neuroblastoma tumorigenesis in vivo. Neoplasia. 2009 Aug; 11(8): 753-62.
Vasudevan SA, Shang X, Chang S, Ge N, Diaz-Miron JL, Russell HV, Hicks MJ, Ludwig AD, Wesson CL, Burlingame SM, Kim ES, Khan J, Yang J, Nuchtern JG.  Neuroblastoma-derived secretory protein is a novel secreted factor overexpressed in neuroblastoma. Mol Cancer Ther. 2009 Aug; 8(8): 2478-89.
Ludwig AD, Feig DI, Brandt ML, Hicks J, Fitch ME, Cass DL.  Recent Advances in the Diagnosis and Treatment of Pheochromocytoma in Children.  American Journal of Surgery. 2007 Dec;194(6):792-7.
Slack AD, Chen Z, Ludwig AD, Hicks J, Shohet JM.  MYCN-directed centrosome amplification requires MDM2-mediated suppression of p53 activity in neuroblastoma cells. Cancer Res. 2007 Mar; 15;67(6):2448-55.