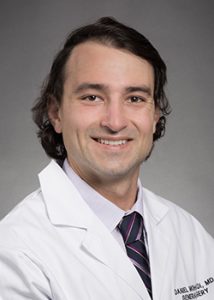 Hometown:
Dallas, TX
Medical School:
University of Texas Southwestern
Bio:
Just a guy from Texas trying to get better everyday. When I'm not working in the hospital, you can find me doing some form of physical activity and blasting music along the way (CCR, The Band, and The Doobie Brothers are my favorites).
Personal Interests:
Lifting, biking, hiking, golfing, snowboarding, eating.
Why UW?
The perfect blend of elite training environment and living environment. Consider myself extremely lucky to be in this position.
What advice do you have for incoming interns?
Well as an incoming intern, I'll make sure to find out and let next year's class know!
What do you like best about living in Seattle?
Being in a city without feeling like I'm in the city.
Publications:
Kennard, N., Mohammadi, D.K., Srinivasaraghavan, A., Mixon, A., Maale, G.E. (2021). Multidirectional Instability Following Primary Total Knees Associated with Zirconium Femurs and Titanium Tibial Baseplates in Patients with Nickel Allergies. Annals of Orthopedics and Rheumatology, 8(1), epub.
Maale, G. E., Mohammadi, D.K., Calderon, F. A., Kennard, N., Montgomery, W. (2020) Clinical Multi-Directional Instability Associated with Metal Ion Allergy Mimicking Infection Following Primary Total Knee Arthroplasty. Annals of Orthopedics and Rheumatology, 7(1), epub.
Maale, G. E., Srinivasaraghavan, A., Mohammadi, D. K., Kennard, N., Angobaldo, D. (2020). The Proximal Placement of the Knee Joint in the One Stage Treatment of Infected Knee Revisions with Large Anterior Soft Tissue Defects. Techniques in Orthopaedics, epub.
Maale, G. E., Mohammadi, D. K., Kennard, N., Srinivasaraghavan, A. (2020). Early Failures of Total Knee Patients with Nickel Allergies Secondary to Carbon Fiber Debris. The Open Orthopaedics Journal, 14(1), epub.
Maale, G. E., Eager, J. J., Srinivasaraghavan, A., Mohammadi, D. K., & Kennard, N. (2020). The evolution from the two stage to the one stage procedure for biofilm based periprosthetic joint infections (PJI). Biofilm, 100033. doi:https://doi.org/10.1016/j.bioflm.2020.100033
Maale, G.E., Kennard, N., Srinivasaraghavan, A., Mohammadi, D.K., Calderon, F. A., 2nd (2020). High local delivery systems of antibiotics in the treatment of biofilm related infections without serum toxic levels. Journal of Clinical Nephrology and Research, 7(1), epub.
Maale, G. E., Eager, J. J., Mohammadi, D. K., & Calderon, F. A., 2nd (2020). Elution Profiles of Synthetic CaSO4 Hemihydrate Beads Loaded with Vancomycin and Tobramycin. European journal of drug metabolism and pharmacokinetics, 10.1007/s13318-020-00622-8. https://doi.org/10.1007/s13318-020-00622-8
Rothschild, S. C., Lee, H. J., Ingram, S. R., Mohammadi, D. K., Walsh, G. S., & Tombes, R. M. (2018). Calcium signals act through histone deacetylase to mediate pronephric kidney morphogenesis. Developmental Dynamics, 247(6), 807–817. doi: 10.1002/dvdy.24632