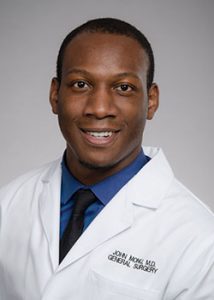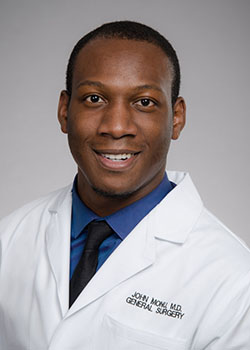 Resident Bio:
I am a general surgery resident. Raised in the Pacific Northwest, I have a love for all things outdoors and enjoys being active, regularly participating in a variety of team sports. My clinical interests are primarily in thoracic surgical disease and I will be pursuing a fellowship in thoracic surgery at the completion of my residency training.
Personal Interests:
Playing basketball, football and volleyball. Outdoor activities such as hiking. Playing guitar and spending time with family.
Clinical Interests:
Thoracic surgery
Professional Activities:
UW Medicine Population Health (Analyst)
Publications:
Monu J, Triplette M, Wood DE, et al. Evaluating Knowledge, Attitudes, and Beliefs About Lung Cancer Screening Using Crowdsourcing. Chest. 2020. In press.
Ehlers AP, Sullivan KM, Stadeli KM, Monu JI, Chen-meekin JY, Khandelwal S. Opioid Use Following Bariatric Surgery: Results of a Prospective Survey. Obes Surg. 2020;30(3):1032-1037.