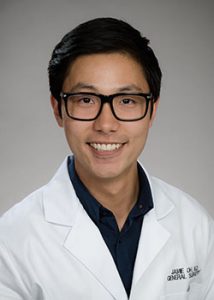 Hometown:
Federal Way, Washington
Graduate School:
Amherst College
Medical School:
University of Washington School of Medicine
Resident Bio:
I was born in California and have lived in Korea, Australia, Hong Kong, and other cities within the U.S. I attended Amherst College majoring in Chemistry before moving to New York City to work in a lab researching HIV. I have always loved teaching and considered going into education, but ultimately realized that medicine held unique teaching opportunities at its core. I chose general surgery as a specialty because of its variety and diversity of experience.
Personal Interests:
Climbing, hiking, tennis, and reading
Clinical Interests:
Trauma, critical care and burns
Professional Activities:
Alpha Omega Alpha Honor Medical Society
American College of Surgeons
American Burns Association
T-32 Research Fellow
Why UW?
The UW has so many levels of diversity in training – every level of hospital serving as clinical sites for residents, patients coming from five different states to undergo care at our various hospitals, and the wealth of specialty care that we are exposed to as residents. All of this combined with the incredible resident community made it an easy choice to decide to come to UW for residency.
What advice do you have for incoming interns?
Enjoy intern year. It can be daunting, but you're in the trenches with like-minded people, and everyone is learning together. It creates an incredible sense of community and helps to foster lifelong friendships with people who are both categorical and preliminary interns.
What do you like best about living in Seattle?
Seattle has everything you want in a city – mountains for hiking, skiing, and climbing, water for kayaking, swimming, and sailing, a wealth of restaurants and inter-city activities. Everything is close by, and so it is easy to take advantage of the time you have off from work.
Publications:
Oh J, Fernando A, Sibbett S, Carrougher GJ, Stewart BT, Mandell SP, Pham TN, Gibran NS. Impact of the Affordable Care Act's Medicaid Expansion on Burn Outcomes and Disposition. Burns. 2020 Nov 10;S0305-4179(20)30579-9.
Oh J, Fernando A, Muffley L, Honari S, Gibran NS. Correlation between the Warrior/Worrier Gene on Post Burn Pruritus and Scarring, A Prospective Cohort Study. Annals of Surgery. 2020 Sep 24.
Rastogi D, Fraser S, Oh J, Huber AM, Schulman Y, Bhagtani RH, Khan ZS, Tesfa L, Hall CB, Macian F. Inflammation, metabolic dysregulation, and pulmonary function among obese urban adolescents with asthma. Am J Respir Crit Care Med. 2015 Jan 15;191(2):149-60.
Oh, J. Dangerous Arts: Educating Homeless and Low Income Populations On Safe Tattoo Practices to Prevent Hepatitis C Infection in Kalispell, MT. Journal of Investigative Medicine. 2014 Jan. Vol 62, Issue 1, Abstract 64.
Rastogi D, Oh J, Fraser S, Schulman Y, Bhagtani R, Khan Z, Tesfa L. Monocyte Activation Patterns Associated With Asthma and Obesity Among Urban Minority Adolescents [Abstract]. 2013 American Thoracic Society International Conference.
Kalyoussef S, Nieves E, Dinerman E, Carpenter C, Shankar V, Oh J, Burd B, Angeletti R, Buckheit K, Fredricks D, Madan R, Keller M, Herold B. Lactobacillus Proteins are Associated with the Bactericidal Activity against E. coli of Female Genital Tract Secretions. PLoS One. 2012;7(11):e49506.