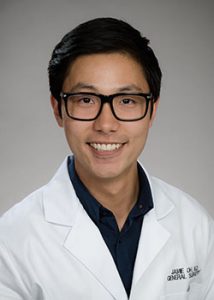 Resident Bio:
I was born in California and have subsequently lived in Korea, Australia, Hong Kong, and cities within the U.S. I attended Amherst College obtaining a degree in Chemistry before moving to New York City to work in a lab researching HIV. I have always loved teaching and considered going into education, but ultimately realized that medicine held unique teaching opportunities at its core. I chose general surgery as a specialty because of its variety and diversity of experience.
Personal Interests:
Climbing, hiking, tennis, and reading
Clinical Interests:
Trauma, critical care and burns
Professional Activities:
Alpha Omega Alpha Honor Medical Society
American College of Surgeons
American Burns Association
T-32 Research Fellow
Publications:
Kalyoussef S, Nieves E, Dinerman E, Carpenter C, Shankar V, Oh J, Burd B, Angeletti R, Buckheit K, Fredricks D, Madan R, Keller M, Herold B. Lactobacillus Proteins are Associated with the Bactericidal Activity against E. coli of Female Genital Tract Secretions. PLoS One. 2012, Nov; 7(11): e49506. Cited in PubMed; PMID: 23185346.
Oh, J. Dangerous Arts: Educating Homeless and Low Income Populations On Safe Tattoo Practices to Prevent Hepatitis C Infection in Kalispell, MT [Abstract]. Journal of Investigative Medicine. 2014, Jan; 62(1): 162.
Rastogi D, Fraser S, Oh J, Huber AM, Schulman Y, Bhagtani RH, Khan ZS, Tesfa L, Hall CB, Macian F. Inflammation, metabolic dysregulation, and pulmonary function among obese urban adolescents with asthma. American Journal of Respiratory and Critical Care Medicine. 2015, Jan; 191(2): 149-160. Cited in PubMed; PMID: 25457349.
Rastogi D, Oh J, Fraser S, Schulman Y, Bhagtani R, Khan Z, Tesfa L. Monocyte Activation Patterns Associated With Asthma and Obesity Among Urban Minority Adolescents [Abstract]. American Journal of Respiratory and Critical Care Medicine. 2013, May; 187(1): A5004 – A5004.