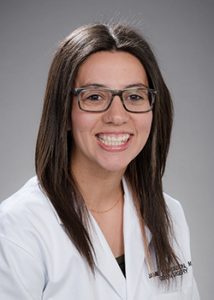 Email:
Hometown:
Fort Worth, TX
Undergraduate School:
Sewanee, The University of the South
Medical School:
UT Houston
Resident Bio:
I originally matched in to PM&R, but after an intern preliminary year in this program, I switched specialties. I am now a General Surgery intern and am very pleased with my decision to change careers. This program has offered me unlimited support and provides numerous opportunities to pursue your desired specialty. You gain operative experience as a junior resident and learn how to manage busy services with appropriate supervision.
Personal Interests:
I enjoy watching all sports and playing basketball. I love the outdoors and like to hike and ski and occasionally climb. I go to the museum and will try to find concerts to attend. I try to spend time with other people's dogs.
Clinical Interests:
I am interested in trauma and critical care along with pediatric surgery.
Professional Activities: