Charles Rodriguez-Feo, MD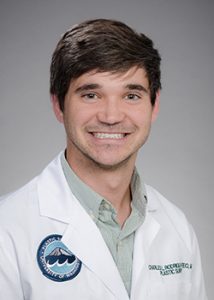 Email:
Hometown:
Fairhope, AL
Undergraduate School:
University of Alabama
Medical School:
Vanderbilt University School of Medicine
Resident Bio:
I attended the University of Alabama in Tuscaloosa and received my Bachelor's degree in microbiology with a mathematics minor in 2011. I earned my medical degree at Vanderbilt University School of Medicine in Nashville in 2015. I was excited to match with the University of Washington for my Plastic and Reconstructive Surgery residency. I have a clinical interest in hand surgery and I'm looking forward to helping patients restore their function and livelihoods for many years to come.
Personal Interests:
Outdoors, fishing, woodworking, horticulture
Clinical Interests:
Hand surgery, lower extremity reconstruction
Publications:
Rodriguez-Feo C.L., Winocour, J., Ramirez-Gavidia J.R., Spear, D., Kelly, K.J. "Twenty-Year Review of a Single Surgeon's Experience with Lambdoidal Synostosis: Surgical Technique with Clinical Review." The Journal of Craniofacial Surgery. 2017. PMID 28962092
Gupta, V., Yeslev, M., Winocour, J., Bamba, R., Rodriguez-Feo, C., Grotting, J.C., Higdon, K.K. "Aesthetic Breast Surgery and Concomitant Procedures: Incidence and Risk Factors for Major Complications in 73,608 Cases" Aesthetic Surgery Journal. 2017. PMID 28333172
Gupta, V., Winocour, J., Rodriguez-Feo, C.L., Shack, R.B., Grotting, J.C., Higdon, K. "Safety of Aesthetic Surgery in the Overweight Patient; Analysis of 127,961 Patients." Aesthetic Surgery Journal. 2016. PMID 26895958
Boyer RB, Sexton KW, Rodriguez-Feo CL, Nookala R, Pollins AC, Cardwell NL, Tisdale KY, Nanney LB, Shack RB, Thayer WP. Adjuvant neurotrophic factors in peripheral nerve repair with chondroitin sulphate proteoglycan-reduced acellular nerve allografts. J Surg Res, 193(2):969-77, 2015. PMID 25438961
Sexton K.W., Rodriguez-Feo C.L., Boyer R.B., Del Corral G.A., Pollins A.C., Cardwell B.S., Shack R.B., Nanney L.B. Thayer W.P. "Axonal Fusion via Conduit Based Delivery of Hydrophilic Polymers." Hand. 2015. Dec;10(4):688-94. PMID: 26568724
Rodriguez-Feo C.L., Sexton K.W., Boyer R.B., Pollins A.C., Cardwell N.L., Nanney L.B., Shack B.R, Mikesh M.A., McGill C.H., Driscoll C.W., Bittner G.D., Thayer W.P. "Blocking the P2X7 Receptor Improves Outcomes After Axonal Fusion". Journal of Surgical Research. 2013. PMID 23731685
Rodriguez-Feo C.L., Brophy, C., Sexton K.W. "Need Cost Effective Surgical Simulation, Send a Resident to the Hardware Store." Journal of Vascular Medicine and Surgery. 2014