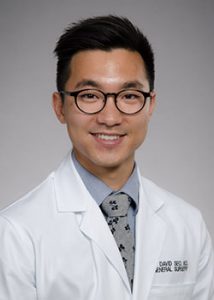 Email:
Hometown:
Los Gatos, CA
Undergraduate School:
Harvard University
Medical School:
University of Michigan
Resident Bio:
Dave Seo was born originally in South Korea but moved to the U.S. at age 11. He has attended schools across the country, completing a bachelors degree in Biology at Harvard University, followed by a short stint in management consulting in Washington DC, and finally completing medical school at University of Michigan in Ann Arbor. He has a strong clinical interest in surgical oncology with a focus on translational research. He recently completed his research fellowship years studying the effects of combination immunotherapies on organotypic models of human pancreatic cancer, as well as analyzing phase 1 trial data of a novel intra-tumoral TLR4-agonist injection in the setting of metastatic soft tissue sarcomas.
Personal Interests:
Music (playing guitar, clarinet)
Hiking and backpacking
Fishing for salmon; fishing for anything
Cycling
Homebrewing
Clinical Interests:
Surgical oncology, Hepato-pancreatobiliary surgery, Immunology
Publications:
Seo, Y. David., Xiuyun Jiang, Kevin M. Sullivan, Florencia G. Jalikis, Kimberly S. Smythe, Arezou Abbasi, Marissa Vignali, James O. Park, Sara K. Daniel, Seth M. Pollack, Teresa S. Kim, Raymond Yeung, Ian N. Crispe, Robert H. Pierce, Harlan Robins, and Venu G. Pillarisetty. "Mobilization of CD8+ T cells via CXCR4 blockade facilitates PD-1 checkpoint therapy in human pancreatic cancer." Clinical Cancer Research, ePub ahead of print, April 2, 2019. https://doi.org/ 10.1158/1078-0432.CCR-19-0081.
Seo, Y. David, and Venu G. Pillarisetty. "T-Cell Programming in Pancreatic Adenocarcinoma: A Review." Cancer Gene Therapy 24, no. 3 (March 2017): 106–13. https://doi.org/10.1038/cgt.2016.66.
Jiang, Xiuyun, Y. David Seo, Jae Hyuck Chang, Andrew Coveler, Eslam N. Nigjeh, Sheng Pan, Florencia Jalikis, Raymond S. Yeung, Ian N. Crispe, and Venu G. Pillarisetty. "Long-Lived Pancreatic Ductal Adenocarcinoma Slice Cultures Enable Precise Study of the Immune Microenvironment." OncoImmunology, May 25, 2017, e1333210. https://doi.org/10.1080/2162402X.2017.1333210.
Jiang, Xiuyun, Y. David Seo, Kevin M. Sullivan, and Venu G. Pillarisetty. "Establishment of Slice Cultures as a Tool to Study the Cancer Immune Microenvironment." In Cancer Immunosurveillance, edited by Alejandro López-Soto and Alicia R. Folgueras, 1884:283–95. New York, NY: Springer New York, 2019. https://doi.org/10.1007/978-1-4939-8885-3_20.
Seo, Y. David, Jules Lin, Andrew C. Chang, Mark B. Orringer, William R. Lynch, and Rishindra M. Reddy. "Emergent Esophagectomy for Esophageal Perforations: A Safe Option." The Annals of Thoracic Surgery 100, no. 3 (September 2015): 905–9. https://doi.org/10.1016/j.athoracsur.2015.04.055.
Thornblade, Lucas W., Yongwoo D. Seo, Tracy Kwan, Jane H. Cardoso, Eric Pan, Gregory Dembo, Raymond S. W. Yeung, and James O. Park. "Enhanced Recovery via Peripheral Nerve Block for Open Hepatectomy." Journal of Gastrointestinal Surgery 22, no. 6 (June 2018): 981–88. https://doi.org/10.1007/s11605-017-3656-y.
Lee, Kwang-Woong, Yongwoo David Seo, Seung Cheol Oh, Suk-Won Suh, Jaehong Jeong, Hyeyoung Kim, Nam-Joon Yi, and Kyung-Suk Suh. "What Is the Best Immunosuppressant Combination in Terms of Antitumor Effect in Hepatocellular Carcinoma?: Immunosuppressant Combination for HCC." Hepatology Research 46, no. 6 (May 2016): 593–600. https://doi.org/10.1111/hepr.12588.
Pollack, Seth M., Qianchuan He, Jennifer H. Yearley, Ryan Emerson, Marissa Vignali, Yuzheng Zhang, Mary W. Redman, Kelsey K. Baker, Sara Cooper, Bailey Donahue, Elizabeth T. Loggers, Lee D. Cranmer, Matthew B. Spraker, Y. David Seo, et al. "T-Cell Infiltration and Clonality Correlate with Programmed Cell Death Protein 1 and Programmed Death-Ligand 1 Expression in Patients with Soft Tissue Sarcomas: Sarcoma Immune Microenvironment." Cancer 123, no. 17 (September 1, 2017): 3291–3304. https://doi.org/10.1002/cncr.30726.
Mukherjee, Siddhartha, Noopur Raje, Jesse A. Schoonmaker, Julie C. Liu, Teru Hideshima, Marc N. Wein, Dallas C. Jones, Sonia Vallet, Mary L. Bouxsein, Samantha Pozzi, Shweta Chhetri, Y. David Seo, et al. "Pharmacologic Targeting of a Stem/Progenitor Population in Vivo Is Associated with Enhanced Bone Regeneration in Mice." Journal of Clinical Investigation, January 24, 2008. https://doi.org/10.1172/JCI33102.