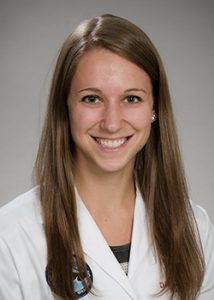 Email:
Hometown:
Ball Ground, GA
Undergraduate School:
University of Georgia
Medical School:
Duke University School of Medicine
Resident Bio:
I grew up in Florida and Georgia. I was the first person in my family to attend a 4-year university and graduated with Highest Honors distinction from the University of Georgia. I then earned my medical degree from Duke University where I discovered that a career in plastic and reconstructive surgery was a perfect fit. I chose to pursue a plastic surgery residency at the University of Washington after experiencing the impressive clinical training, academic opportunities, positive work environment, and work-life balance.
Personal Interests:
International travel and embracing the outdoors pacific northwest lifestyle
Clinical Interests:
Pediatric plastic surgery, craniofacial surgery, microsurgery, global surgery
Publications:
Massie JP; Cho DY, Kneib CJ, Burns JR, Crowe CS, Lane M, Shakir A, Sobol DL, Sabin J, Sousa JD, Rodriguez ED, Satterwhite T, Morrison SD. Patient Representation in Medical Literature: Are We Appropriately Depicting Diversity? Plast Reconstr Surg Global Open. Dec 2019; 7 (12): e2563.
Gandolfi BM, Sameer H, Sobol DL, Allori AC, Fuchs HE, Marcus JR. Power-assisted particulate bone grafting minimized osseous calvarial defects after cranial vault reconstruction for craniosynostosis. J Craniofac Surg. May 2018; 29(3):547-552.
Gandolfi BM, Sobol DL, Farjat AE, Allori AC, Muh CR, Marcus JR. Risk factors for delayed referral to a craniofacial specialist for treatment of craniosynostosis. J of Pediatr. July 2017; 186; 165-171.
Carlson AR, Sobol DL, Pien IJ, Allori AC, Marcus JR, Watkins SE, et al. Obstructive sleep apnea in children with cleft lip and/or palate: Results of an epidemiologic study. Dent Oral Craniofac Research. April 2017; 3(4): 1-7.
Sobol DL, Allori AC, Carlson AR, Pien IJ, Watkins SE, Aylsworth AS, Meyer R, Pimenta L, Strauss RP, Ramsey B,
Raynor E, Marcus JR. Nasal airway dysfunction in children with cleft lip and/or palate: results of a cross-sectional, population-based study. Plast Reconstr Surg. Dec 2016; 138(6): 1275-1285.
Sobol DL, Spector AR. Levothyroxine improves subjective sleepiness in a euthyroid patient with narcolepsy without cataplexy. J Clin Sleep Med. Oct 2014; 10(11):1231-1232.