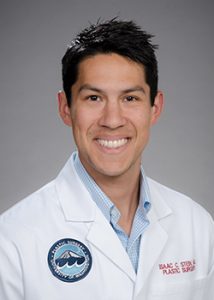 Email:
Hometown:
Kalamazoo, MI
Undergraduate School:
Washington University in St. Louis
Medical School:
University of Michigan
Resident Bio:
I grew up in Kalamazoo, MI in a pretty simple midwestern town. I attended Washington University in St. Louis and studied Biology/Neuroscience while playing tennis. For medical school I returned home to the University of Michigan which provided a wonderful springboard and support for a budding interest in Plastic surgery. For residency, I pointed myself west and was fortunate to match at the University of Washington. Over the last 5 years, Seattle has become home and a place for academic and personal interests to flourish. I enjoy spending as much time as possible exploring the beautiful Pacific Northwest with my wife and friends. I'm grateful for the family atmosphere of our UW program, the world-class training, and the wonderful balance it provides to everyday life.
Personal Interests:
Downhill skiing, back-country skiing, hiking, camping, photography, travel
Clinical Interests:
Extremity trauma reconstructive plastic surgery, oncologic reconstructive plastic surgery, cosmetic surgery
Publications:
Stein IC, Than KD, Wang AC, Chen KS, La Marca F, Park P. Failure and Retrograde Expulsion of Polyether-Ether-Ketone Interbody Device Following Transforaminal Lumbar Interbody Fusion: Case Report. European Spine Journal. 2015; 24 Suppl 4: S555-9.
Kovalenko B, Stein I, Fernando N. Total Hip Arthroplasty for Ankylosis Requiring Rotational Rectus Femoris Flap and Skin Graft for Wound Closure. Accepted for publication: Arthroplasty Today, March 2020.
Kim EK, Sheetz KH, Bonn J, Deroo S, Lee C, Stein I, Zarinsefat A, Cai S, Campbell DA Jr., Englesbe MJ. A Statewide Colectomy Experience: The Role of Full Bowel Preparation in Preventing Surgical Site Infection. Annals of Surgery. 2014; 259 (2): 310-4.
Zarinsefat A, Terjimanian MN, Tishberg LM, Stein IC, Mazurek AA, Wang SC, Sonnenday CJ, Englesbe MJ. Perioperative changes in trunk musculature as a predictor of one-year mortality. Journal of Surgical Research. 2014; 191 (1): 106-12.
Levi B, Rinkinen J, Agarwal S, Benedict M, Hiltzik DM, Stein IC, Lisiecki J, Enchakalody B, Wang SC, Kozlow J, Momoh AO. Morphomic Analysis Aids Pre-operative Donor Site Risk Assessment of Breast Cancer Patients Undergoing Deep Inferior Epigastric Perforator Flap Breast Reconstruction. Journal of Reconstructive Microsurgery.