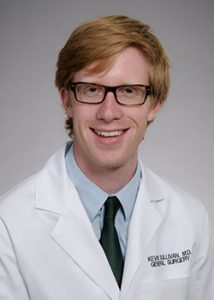 Email:
Hometown:
Whitefish Bay, WI
Undergraduate School:
University of Pennsylvania
Medical School:
Medical College of Wisconsin
Resident Bio:
Born and raised in Wisconsin, I went to instead at Penn where I also ran cross country and track. I completed medical school back in Wisconsin before coming out to the West Coast. I was drawn to Seattle for its combination of both city life but also opportunities to mountains and the outdoors.
Personal Interests:
Hiking, backpacking, camping, skiing, and breweries
Clinical Interests:
Surgical oncology, HPB
Professional Activities:
John and Helen Schilling Surgery Resident Research Endowment
Cancer Research Institute and Fibrolamellar Cancer Foundation Research Fellowship
Publications:
Sullivan KM, Jiang X, Lausted C, Labadie KP, Kenerson HL, Kohli K, Daniel SK, Yan S, Meng C, Abbasi A, Shin SJ,  Seo YD, Gujral TS, Kim TS, Park JO, Crispe IN, Yeung RS, Tian Q,  Pillarisetty VG. Blockade of macrophage-derived interleukin-10 reinvigorates the anti-tumor immune response in human colorectal cancer liver metastases. Submitted to Cancer Research.
Sullivan, KM et al. Interleukin-10 potentiates anti-tumor activity of antigen-specific CAR-T cells in human solid gastrointestinal malignancy. Manuscript in preparation.
Kenerson HL, Sullivan KM, Seo YD, Stadeli KM, Ussakli C, Yan X, Lausted C, Pillarisetty VG, Park JO, Riehle KJ, Yeh M, Tian Q, Yeung RS. Tumor slice culture as a biologic surrogate of human cancer. Ann Transl Med. 2020 Feb;8(4):114.
Ehlers AP, Sullivan KM, Stadeli KM, Monu JI, Chen-Meekin JY, Khandelwal S. Opioid Use Following Bariatric Surgery: Results of a Prospective Survey. Obes Surg. 2020 Mar;30(3):1032-103
Labadie KP, Sullivan KM, Daniel SK, Park JO, Yeung RY. Liver surgery – less is more. Laparosc Surg 2019;3:19.
Turnham RE, Smith FD, Kenerson HL, Omar MH, Golkowski M, Garcia I, Bauer R, Lau HT, Sullivan KM, et al. An acquired scaffolding function of the DNAJ-PKAc fusion contributes to oncogenic signaling in fibrolamellar carcinoma. eLife. 2019 May 7;8. pii: e44187.
Riehle KJ, Kenerson HL, Riggle KM, Turnham R, Sullivan KM, Bauer R, Scott JD, Yeung RS. Neurotensin as a source of cyclic AMP and co-mitogen in fibrolamellar hepatocellular carcinoma. Oncotarget. 2019 Aug 20;10(49):5092-5102.
Seo YD, Jiang X*, Sullivan KM*, Jalikis F, Smythe K, Abasi A, Vignali, M, Park JO, Daniel SK, Pollack S, Kim TS, Yeung RS, Crispe IN, Pierce R, Robbins H, Pillarisetty VG. Mobilization of CD8+ T cells via CXCR4 blockade facilitates PD-1 checkpoint therapy in human pancreatic cancer. Clin Cancer Res. April 2 2019
Daniel SK, Sullivan KM, Labadie KP, Pillarisetty VG. Hypoxia as a barrier to immunotherapy in pancreatic adenocarcinoma. Clin Transl Med. 2019 Apr 1;8(1):10.
Kastenhuber ER, Craig J, Ramsey J, Sullivan KM, et al. Road map for fibrolamellar carcinoma: progress and goals of a diversified approach. Journal of Hepatocellular Carcinoma. 2019; 6: 41-48.
Jiang X, Seo YD, Sullivan KM, Pillarisetty VG. Establishment of Slice Cultures as a Tool to Study the Cancer Immune Microenvironment. Cancer Immunosurveillance. Methods in Mol Biol. 2019; 1884:283-295.
Sullivan KM, Yeung RY. Minimally invasive therapies for hepatocellular carcinoma: narrowing the gaps. Hepatoma Res 2018;4:68.
Sullivan KM, Kenerson HL, Pillarisetty VG, Riehle KJ, Yeung RS. Precision oncology in liver cancer. Ann Transl Med. 2018 Jul;6(14):285.
Sullivan KM, editor. Fibrolamellar Carcinoma. NORD (National Organization for Rare Disorders). https://rarediseases.org/rare-diseases/fibrolamellar-carcinoma. Published May 2018. Accessed June 1, 2018.
Sullivan KM, Groeschl RT, Turaga KK, Tsai S, Christians KK, White SB, Rilling WS, Pilgrim CH, Gamblin TC. Neutrophil-to-lymphocyte ratio as a predictor of outcomes for patients with hepatocellular carcinoma: a Western perspective. J Surg Oncol. 2014 Feb;109(2):95-7.
Yano T, Kassovska-Bratinova S, Shin Tech J, Winkler J, Sullivan K, Issacs A, Schechter NM, Rubin H. Reduction of Clofazimine by Mycobacterial Type 2 NADH: Quinone Oxidoreductase. J Biol Chem. 2011 Mar 25;286(12): 10276-10287.