Lucas W. Thornblade, MD, MPH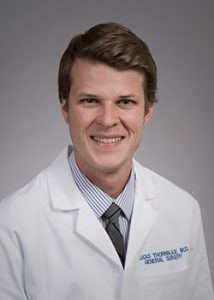 Resident Bio:
Dr. Thornblade is a resident in General Surgery at the University of Washington where he completed a T32-funded research fellowship in gastrointestinal surgery outcomes. His research interests include measuring comparative effectiveness in surgery, identifying waste and low-value care in the health system, and improving access to surgical cancer care for under-served patients. He plans to pursue an academic career in general Surgical Oncology.
Personal Interests:
Trail running, sailing
Clinical Interests:
Surgical Oncology
Professional Activities:
COORDINATOR, Resident and faculty Journal Club, University of Washington, (2016-2017)
Publications:
Thornblade LW, Flum DR, Flaxman AD. Predicting Future Elective Colon Resection for Diverticulitis Using Patterns of Healthcare Utilization. eGEMs. In Press, Accepted 11/28/17
Thornblade LW, Seo YD, Kwan T, Cardoso JH, Pan E, Dembo GA, Yeung RSW, Park JO. Enhanced Recovery via Peripheral Nerve Block after Hepatectomy. Journal of Gastrointestinal Surgery. In Press, Accepted 11/12/17
Thornblade LW, Wood DE, Mulligan MS, Farivar AS, Hubka M, Costas KE, Krishnadasan B, Farjah F. Variability in Invasive Mediastinal Staging for Lung Cancer: A Multi-Center Regional Study. Journal of Thoracic and Cardiovascular Surgery. In Press, Accepted 10/30/17
Thornblade LW, Arbabi S, Flum DR, Qiu Q, Fawcett VJ, Davidson GH. Facility-Level Factors and Outcomes After Skilled Nursing Facility Admission for Trauma and Surgical Patients. J Am Med Dir Assoc. October 2017. doi:10.1016/j.jamda.2017.08.007. PMID: 29042263
Thornblade LW, Truitt AR, Davidson GH, Flum DR, Lavallee DC. Surgeon attitudes and practice patterns in managing small bowel obstruction : a qualitative analysis. J Surg Res. 2017;219:347-353. doi:10.1016/j.jss.2017.06.052.
Thornblade LW, Cheng AM, Wood DE, Mulligan MS, Saunders MD, He H, Oelschlager BK, Flum DR. Farjah F. A Nationwide Rise in the Use of Stents for Benign Esophageal Perforation. Ann Thorac Surg. June 2017. doi:10.1016/j.athoracsur.2017.03.069. PMID: 28577842
Davidson GH, Austin E, Thornblade L, Simpson L, Ong TD, Pan H, Flum DR. Improving transitions of care across the spectrum of healthcare delivery: A multidisciplinary approach to understanding variability in outcomes across hospitals and skilled nursing facilities. Am J Surg. April 2017. doi:10.1016/j.amjsurg.2017.04.002. PMID: 28396033
Thornblade LW, Shi X, Ruiz A, Flum DR, Park JO. Comparative Effectiveness of Minimally Invasive Surgery and Conventional Approaches to Major or Challenging Hepatectomy. J Am Coll Surg. February 2017. doi:10.1016/j.jamcollsurg.2017.01.051. PMID: 28163089
Thornblade LW, Varghese TK, Shi X, Johnson EK, Bastawrous A, Billingham RP, Thirlby R, Fichera A, Flum DR. Preoperative Immunonutrition and Elective Colorectal Resection Outcomes. Dis Colon Rectum. 2017;60(1):68-75. doi:10.1097/DCR.0000000000000740. PMID: 27926559
Jones CL, Kakade SM, Thornblade LW, Flum DR, Flaxman AD. Canonical Correlation Analysis for Analyzing Sequences of Medical Billing Codes. 2016;(Nips 2016). http://arxiv.org/abs/1612.00516.
Thornblade LW, Henry EG, Minh Tam N, Markuns JF. A novel tool for assessing primary care quality at the point of care in Vietnam. Educ Prim Care. September 2016:1-5. doi:10.1080/14739879.2016.1222505. PMID: 27583531