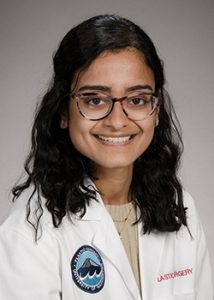 Hometown:
Plano, TX
Graduate School:
University of Texas at Austin
Medical School:
University of Texas Southwestern Medical School
Bio:
I was born in Bangalore, India, and moved to Dallas, TX when I was 2 years old. In medical school, I had the fortuitous opportunity to shadow a plastic surgeon and fell in love with the wide scope and creativity inherent to this wonderful specialty. I am also interested global health and completed a Masters in Public Health during medical school. I focused my studies on global health policy and hope to make public health and health policy a major part of my practice in the future. When I'm not working, I enjoy being outdoors-running, biking, hiking or playing with my dog. I am grateful to be a member of the UW Plastic and Reconstructive Surgery residency program because of the diversity of clinical experiences it offers, the incredibly warm and welcoming residents, and the supportive faculty who encourage both professional and personal growth.
Personal Interests:
Running, hiking, biking, reading, baking, traveling, hanging out with friends, family and my puppy
Clinical Interests:
Microsurgery, extremity reconstruction, cancer reconstruction, trauma reconstruction
Publications:
Angrigiani C, Neligan P, Thrikutam N. Anterior Neck Resurfacing Using a Single Free Flap: Comparison of Flap Descent in Patients With Burn Sequelae of the Neck/Chest and Patients With Burn Sequelae of Only the Neck. Annals of Plastic Surgery. 2019.
Mohanty A, Hembd A, Thrikutam N, Rozen S. Reuse of the masseteric nerve for dynamic reanimation in facial palsy patients with previously failed one-stage dynamic smile reanimation. PRS. 2019; 143(2):567-571.
Mohanty A, Hembd A, Thrikutam N, Bartley J, Rozen S. Orbicularis oculi muscle reinnervation confers corneal protective advantages over static interventions alone in the subacute facial palsy patient. PRS. March 2019.
Zabojova J, Thrikutam N, Tolley P, Perez J, Rozen S, Rodriguez-Lorenzo A. Relational anatomy of the mimetic muscles and implications on free functional muscle inset in facial reanimation. Annals of Plastic Surgery. 2018;81(2):203-207.