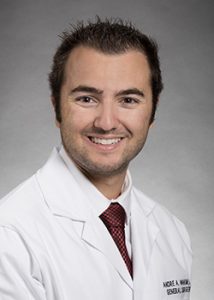 Hometown:
Wichita, KS
Medical School:
Creighton University
Resident Bio:
I was born and raised in Wichita, KS. I attended Wichita State University for a degree in biomedical engineering and physics prior to attending medical school at Creighton University. At Creighton, I spent two years in Omaha, Nebraska and two years in Phoenix, Arizona at our regional campus. I'm excited that my journey has landed me here at the University of Washington to start my residency!
Personal Interests:
Fishing, camping, and really anything to do with the outdoors and the water.
Reading
Traveling
Cooking
Clinical Interests:
General surgery
Neurosurgery
Professional Activities:
American Association of Neurological Surgeons
Congress of Neurological Surgeons
American College of Surgeons
Biomedical Engineering Society
Why UW?
The University of Washington successfully helps residents achieve their goals while simultaneously training them to be excellent physicians.
What advice do you have for incoming interns?
As an incoming intern, I hope to be friendly and approachable to my new colleagues.
What do you like best about living in Seattle?
The food in the U-District is unmatched.
Publications:
J. Catapano, C. Nguyen, A. Wakim, F. Albuquerque, A. Ducruet. "Middle meningeal artery embolization for chronic subdural hematoma," Frontiers in Neurology – Neurotrauma, October 20, 2020. https://doi.org/10.3389/fneur.2020.557233
A. A. Wakim, J. B. Mattar, M. Lambert, F. A. Ponce, "Peri-operative Complications of Deep Brain Stimulation and Advanced Age: A Single-Institution Retrospective Analysis," Journal of Neurological Surgery. February 12, 2021. https://doi.org/10.3171/2020.8.JNS201283
S. Tenny, P. Lookian, A. Wakim, D. Surdell. "Irrigation for Cerumen Removal Causing Meningitis," University of Nebraska Graduate Medical Education Research Journal, Sep 29, 2020; Volume 2, Issue 1. DOI: 10.32873/unmc.dc.gmerj.2.1.008
N. A. Sioda, A. A. Wakim, T. Wong, D. Row, K. Coan, "A Large Sporadic Intra-abdominal Desmoid-type Fibromatosis in a Young Male: A Case Report", Frontiers in Surgery – Surgical Oncology Sep 2, 2020. https://doi.org/10.3389/fsurg.2020.00060
J. L. Griffith, A. A. Wakim, P. Moore-Jansen and K. Cluff, "Non-invasive biomedical patch sensor to measure intracranial pressure," 2016 IEEE 13th International Conference on Wearable and Implantable Body Sensor Networks (BSN), San Francisco, CA, 2016, pp. 211-211