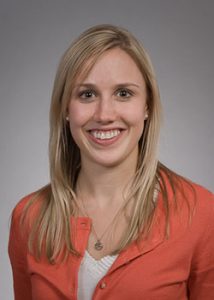 Email:
Hometown:
Seattle, WA
Undergraduate School:
University of Washington
Medical School:
University of Michigan
Resident Bio:
I was born and raised in Seattle, and am so happy to be back for residency in this beautiful city—I'm planning on a career in trauma surgery. I'm grateful for the incredible group of people in our department, and the fantastic training opportunities. I completed two years of research as a T32 fellow at the Harborview Injury Prevention and Research Center, focusing on patient outcomes and quality of care in trauma, as well as epidemiology of adult and pediatric trauma. While in the lab, I also received an MPH in Epidemiology through the UW School of Public Health.
Personal Interests:
I try to be outside and active as much as I can – running, triathlon, hiking, playing in the mountains and lots of other adventures.
Clinical Interests:
Trauma surgery
Publications:
Tessler RA, Mooney SJ, Witt CE, O'Connell K, Jenness J, Vavilala MS, Rivara, FP. Use of firearms in terrorist attacks: differences between the US, Canada, Europe, Australia, and New Zealand. JAMA Internal Medicine. 2017 Dec 1;177(12):1865-1868.
Cook, M, Witt CE, Bonow RH, Bulger EM, Arbabi S, Robinson BRH, Cuschieri J. Blunt Cerebrovascular Injury Screening in Children: Are They Just Little Adults? J Trauma Acute Care Surg. 2017 Jun 20. Epub ahead of print.
Witt CE, Rudd KE, Bhatraju P, Rivara FP, Hawes SE, Weiss NS. Neonatal abstinence syndrome, prenatal opioid exposure and early childhood morbidity and mortality in Washington state: a retrospective cohort study. J Perinatology. 2017 Oct;37(10):1124-1129.
Bonow RH*, Witt CE*, Mosher BP, Mossa-Basha M, Vavilala MS, Rivara FP, Cuschieri J, Arbabi S, Chesnut RM. Transcranial Doppler microemboli monitoring for stroke risk stratification in blunt cerebrovascular injury. Crit Care Med. 2017 Oct; 45(10):e1011-e1017. [*Authors contributed equally]
Jenness JL, Witt CE, Quistberg DA, Johnston BD, Rowhani-Rahbar A, Mackelprang JL, McLaughlin KA, Vavilala MS, Rivara FP. Association of physical injury and mental health: Results from the National Comorbidity Survey- Adolescent Supplement. J Psychiatr Research. 2017 Apr 1;92:101-107.
Witt CE, Linnau KF, Maier RV, Rivara FP, Vavilala MS, Bulger EM, Arbabi S. Management of pericardial fluid in blunt trauma: variability in practice and predictors of outcome in patients with Computed Tomography evidence of pericardial fluid. J Trauma. 2017 Apr;82(4):733-741.
Witt CE, Bulger EM. Comprehensive approach to the management of the patient with multiple rib fractures: a review and introduction of a bundled rib fracture management protocol. Trauma Surg Acute Care Open 2016;1:1-7.
Witt CE, Arbabi S, Nathens AB, Vavilala MS, Rivara FP. Obesity in pediatric trauma. J Pediatr Surg. 2017 Apr;52(4):628-632.
Witt CE, Goldin AB, Vavilala MS, Rivara FP. Effect of body mass index percentile on pediatric gastrointestinal surgery outcomes. J Pediatr Surg. 2016 Sep;51(9):1473-9.
Witt CE, Mesher AL, Hermsen JL, Brogan TV, McMullan DM. Intrapleural fibrinolysis during pediatric extracorporeal life support. World J Pediatr Congenit Heart Surg. 2015 Jan;6(1):123-5.
Witt CE, Wang AC, Than KD, Muraszko KM. Chiari I malformation presenting with inducible hemifacial weakness. J Neuros Pediatr; 2011 Dec;8(6):620-624.
Wang AC, Gemmete JJ, Keegan CE, Witt CE, Muraszko KM, Than KD, Maher CO. Spontaneous intracranial hemorrhage and multiple intracranial aneurysms in a patient with Roberts syndrome/SC phocomelia. J Neuros Pediatr; 2011 Nov;8(5):460-463.
Park JR, Witt CE, Chowdhary A, Nguyen TS, Winn HR, Ngai AC, Britz GW. Impairment of intracerebral arteriole dilatation responses after subarachnoid hemorrhage. J Neurosurg. 2009 Nov;111(5):1008-13.
Park IS, Meno JR, Witt CE, Suttle TK, Chowdhary A, Nguyen TS, Ngai AC, Britz GW. Subarachnoid hemorrhage model in the rat: modification of the endovascular filament model. J Neurosci Methods. 2008 Jul 30;172(2):195-200.