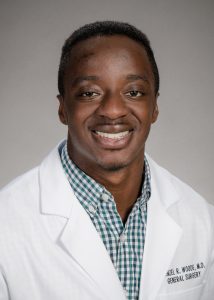 Hometown:
Gaithersburg, MD
Graduate School:
Columbia University: Columbia College
Medical School:
Columbia University Vagelos College of Physicians and Surgeons
Bio:
I went to high school in Montgomery County, Maryland, and attended undergrad and medical school at Columbia University in NYC. I was a track and field runner from high school, and ran for 4 years on Columbia's Varsity Track and Field team, running the 800m. During medical school, I was involved with translational research in pulmonary disease, clinical research in vascular surgery, and played on our medical school's Rugby team. I was also involved in developing ways to discuss the effects of healthcare disparities, socioeconomic bias, and racial bias in the teaching and practice of medicine. UW General Surgery has the resources and expertise for me to continue to build on my personal interests, and amazing co-residents who have given me the support I need to learn and grow in residency.
Personal Interests:
Running, basketball, and music
Clinical Interests:
Trauma/Critical Care
Publications:
Garvey A & Woode DR & Austin CS. Reclaiming the White Coats for Black Lives. American Journal of Public Health. 2016, Oct; 106(10): 1749-51.
Woode D, & Shiomi T, & D'Armiento J. Collagenolytic Matrix Metalloproteinases in Chronic Obstructive Lung Disease and Cancer. Cancers (Basel). 2016, Oct; 7(1): 329-41.
Woode D* & Aiyer HS* & Sie N & Zwart A & Li L & Seeram N & Clarke R. (*Equal Authors). (2012, December 31). Effect of Berry Extracts and Bioactive Compounds on Fulvestrant (ICI 182,780) Sensitive and Resistant Cell Lines. https://www.ncbi.nlm.nih.gov/pmc/articles/PMC3549366/, Pub Status: Published.
Aiyer H.S., & Warri A.M., & Woode DR., & Hilakivi-Clarke L., & Clarke R. Influence of Berry-Polyphenols on Receptor Signaling and Cell-Death Pathways: Implications for Breast Cancer Prevention. Journal of Agriculture and Food Chemistry. 2012, Feb; 60(23): 5693-5708.