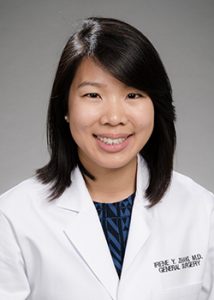 Email:
Hometown:
Guilford, CT (more recently Las Vegas, NV)
Medical School:
Harvard Medical School
Resident Bio:
I grew up in Connecticut and spent most of my educational years in New England before moving out to Seattle for general surgery residency. Thus far at UW, I have developed interests in oncology, trauma, burns, and reconstructive surgery, as well as outcomes research and potential interventions to improve physician and patient decision-making. Seattle has also led me to new hobbies including bouldering, stand up paddle boarding, and surfing (still a work in progress)!
Personal Interests:
Outdoor activities, discovering new restaurants and coffee shops, and spending time with my family, friends, and cat.
Clinical Interests:
Surgical oncology, trauma, burns, and reconstructive surgery
Professional Activities:
American College of Surgeons, UW Department of Surgery REACH Committee, UW Department of Surgery "The Forum" Mentorship Initiative, UW Surgical Outcomes Research Center (SORCE) T32 Postdoctoral Fellowship
Why UW?
UW struck me as a progressive and well-rounded academic surgery program with a breadth of faculty, training sites and learning opportunities. I remember being very impressed with the people here, including the faculty and senior residents in particular, who were as accomplished as they were down to earth. Seattle is also a beautiful, wonderful city, and a great personal fit. I'm grateful to be able to train here.
What advice do you have for incoming interns?
At any point, there are people around or just a phone call away who can help you. If in any doubt, call! Also, scout out the coffee early — sometimes it's free.
What do you like best about living in Seattle?
I like that Seattle brings together city life and an incredible outdoors (that's enjoyable all year round).