Program For Matched Anesthesiologists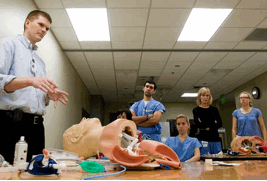 An increasing number of applicants pursuing a career in Anesthesiology are interested in a preliminary year in General Surgery at the University of Washington. This heightened interest in a preliminary year in surgery makes perfect sense given: (a) the congruent interests of the surgical patient present in our two fields, (b) the opportunity as a surgical resident to see the surgical patient from the other side of the curtain – to include the pre and post-operative management, (c) the ability for an internship in general surgery to provide the future anesthesiologist with a broad-based foundation in the many surgical sub-specialties, (d) outstanding experience in critical care, (e) an opportunity to refine your procedural skills, and (f) the close working relationship and team approach required by anesthesiologists and surgeons every day for the excellent care of their patients. A preliminary year in surgery is a great choice for an aspiring anesthesiologist. With this in mind, the University of Washington Department of Surgery developed a Preliminary Program designed specifically for future Anesthesiologists.
Rotations
Rotations for this program are chosen with a focus on meeting the Anesthesiology RRC requirements required for your R1 year. After this, our focus is to provide a broad based experience in some general surgery specialties (GI, Vascular/Endovascular, CT, Breast, Surgical Oncology, ER) and some of the sub-specialties of Orthopedics and Neurosurgery in both the elective and trauma settings. This track includes at least one ICU rotation. The Program Director is open to accept limited special rotation requests within the pool of options. Most of the time we are able to accommodate them.
Comments from past graduates
"The time goes by so fast and when you look back you are amazed at how much experience you've gained in what seemed like a very short time. The faculty and senior residents at the University of Washington really encourage independent patient care planning and they are always available to provide the right amount of guidance and supervision. UW's General Surgery program is always working to stay at the top of their field and I think they produce some of the best residents in the country. I am glad to have started my training at the University of Washington because I know that I had one of the best groups of surgeons training me."
Lara Felts, MD – P1 UW Surgery, University of Kansas Anesthesiology
"I already take great pride in the UW system and appreciate the year's training I'd received. I'd summarize my UW prelim year as being part of a powerful institution that cares for the most complex and/or acute patients, yet with the support of residents and faculty, I was able to handle, learn, and enact the care that had to be rendered. The residents were immediately welcoming, sociable, talented and enthusiastic, and I enjoyed many great professional and social, outside of work, interactions throughout my year with my teammates. My work as a surgical intern at UW has instilled organizational and general cognitive skills. I am very appreciative of the surgical intern year currently as an anesthesia CA-1. I understand the pace and workflow of the OR, in particular at case starts and ends, by far the most active time for the anesthetist. Having done many OR starts with patient preparation, positioning etc., I fumble less doing the anesthesia roles during these steps. Good anesthesiology involves awareness of the surgical procedure (i.e. blousing anesthetic/analgesic to anticipate stimulating points in surgery) and I feel much more confident about the surgical procedure on the other side of the curtain to know how to tailor my anesthetic plan for the case and how to manage my workflow (charting, administrative duties, preparing supplies/meds for the day) because I am familiar with the process of the surgical case just by looking at the operative field. It is nice to have some familiarity during a VERY new job. Lastly, and particularly because of the high-acuity of Harborview, I feel very confident in my ability to interpret and intervene on the unstable patient, i.e. fluid resuscitation, transfusion. Glad I got to be a part of the UW system, couldn't think of a better foundation for my career."
Jed Cohn, MD,– P1 UW Surgery, Stanford University Anesthesiology