Program For Matched Ophthalmologists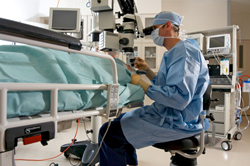 The University of Washington Department of Surgery developed a Designated Preliminary Program designed specifically for future ophthalmologists. This program will provide exposure to a wide range of general surgery operations and help you to start refining your technical operative skills. We are proud of our training program as being one of the top in the U.S. and at the same time valuing an atmosphere of camaraderie, mutual respect and high resident morale. Our faculty represents many of the Who's Who in American surgery. We take pride in treating all of our residents equally – whether categorical or preliminary. Our mentorship program will provide you with individualized attention.
Rotations
Rotations for this program are chosen with a focus on meeting the Ophthalmology RRC requirements for your R1 year. After this, our focus is to provide a broad based experience in some of the general surgery specialties (Vascular/Endovascular, ICU, Surgical Oncology, EM, Plastic Surgery) and the sub-specialties of Orthopedics and Neurosurgery in both the elective and trauma settings. We have a microsurgery module in our WISH simulation center is that is of particular interest to our future ophthalmologists. The Program Director is open to accept limited special rotation requests within the pool of options. Most of the time we are able to accommodate them.