Investigator Profile: Warren Chow, MD, MS, RPVI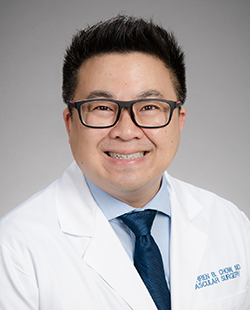 Warren Chow, MD, MS, RPVI
Assistant Professor, Division of Vascular Surgery, VA Puget Sound Health Care System
Dr. Chow's research interests include health services and outcomes research in surgery, specifically with peripheral artery disease and aortic disorders. His prior research has been in bioengineering and perioperative care of elderly patients.
Guo Z, Liu C, Huang K, Yu N, Peng M, Starnes BW, Chow WB, Li Z, Zhang WW. Meta-analysis of redo stenting versus endarterectomy for in-stent stenosis after carotid artery stenting. J Vasc Surg. 2020 Aug 28:S0741-5214(20)31903-0. PMID: 32861870
Hysa L, Khor S, Starnes BW, Chow WB, Sweet MP, Nguyen J, Shalhub S. Cause-specific mortality of type B aortic dissection and assessment of competing risks of mortality. J Vasc Surg. 2021 Jan;73(1):48-60.e1. PMID: 32437949
Chow WB, Leverentz DM, Tatum B, Starnes BW. Fenestrated Endovascular Aneurysm Repair is Financially-Viable at a High-Volume Medical Center with Positive Hospital Contribution Margins and Physician Payment. J Vasc Surg. Accepted May 2019. PMID 31443975
Delafontaine JL, Hu B, Tan TW, Tang GL, Starnes BW, Virk C, Chow WB, Zhang WW. Outcome comparison of TEVAR with and without left subclavian artery revascularization from analysis of Nationwide Inpatient Sample database. Ann Vasc Surg. 2019 Mar 22. pii: S0890-5096(19)30188-8.  PMID 30910649
Lawson EH, Ko CY, Adams JL, Chow WB, Hall BL. Reliability of Evaluating Hospital Quality by Colorectal Surgical Site Infection Type. Ann Surg. 2013 Dec;258(6):994-1000. PMID: 23657082
Cohen ME, Ko CY, Bilimoria KY, Zhou L, Huffman K, Wang X, Liu Y, Kraemer K, Meng X, Merkow R, Chow W, Matel B, Richards K, Hart AJ, Dimick JB, Hall BL. Optimizing ACS NSQIP Modeling for Evaluation of Surgical Quality and Risk: Patient Risk Adjustment, Procedure Mix Adjustment, Shrinkage Adjustment, and Surgical Focus. J Am Coll Surg. 2013 Aug;217(2):336-346. PMID 23628227
Merkow RP, Hall BL, Cohen ME, Wang X, Adams JL, Chow WB, Lawson EH, Bilimoria KY, Richards K, Ko CY. Validity and feasibility of the American College of Surgeons colectomy composite outcome quality measure. Ann Surg. 2013 Mar;257(3):483-9. PMID: 23299518
Chow WB, Merkow RP, Cohen ME, Bilimoria KY, Ko CY. Association between postoperative complications and reoperation for patients undergoing geriatric surgery and the effect of reoperation on mortality. Am Surg. 2012 Oct;78(10):1137-42. PMID 23025958
Chow WB, Rosenthal RA, Merkow RP, Ko CY, Esnaola NF. Optimal preoperative assessment of the geriatric surgical patient: a best practices guideline from the American College of Surgeons National Surgical Quality Improvement Program and the American Geriatrics Society. J Am Coll Surg. 2012 Oct;215(4):453-66. PMID 22917646
Merkow RP, Hall BL, Cohen ME, Dimick JB, Wang E, Chow WB, Ko CY, Bilimoria KY. Relevance of the c-statistic when evaluating risk-adjustment models in surgery. J Am Coll Surg. 2012 May;214(5):822-30. PMID 22440055
Merkow RP, Bilimoria KY, Chow WB, Merkow JS, Weyant MJ, Ko CY, Bentrem DJ. Variation in lymph node examination after esophagectomy for cancer in the United States. Arch Surg. 2012 Jun;147(6):505-11. PMID: 22351873
Merkow RP , Bilimoria KY, McCarter MD, Chow WB, Gordon HS, Stewart AK, Ko CY , Bentrem DJ. Effect of histologic subtype on treatment and outcomes for esophageal cancer in the United States. Cancer. 2012 Jul 1;118(13):3268-76. PMID: 22006369
Zenilman ME, Chow WB, Ko CY, Ibrahim AM, Makary MA, Lagoo-Deenadayalan S, Dardik A, Boyd CA, Riall TS, Sosa JA, Tummel E, Gould LJ, Segev DL, Berger JC. New developments in geriatric surgery. Curr Probl Surg. 2011 Oct;48(10):670-754. PMID 21907843
Merkow RP, Bilimoria KY, McCarter MD, Chow WB, Ko CY, Bentrem DJ. Use of Multimodality Neoadjuvant Therapy for Esophageal Cancer in the United States: Assessment of 987 Hospitals. Ann Surg Oncol. 2011 Jul 20. PMID: 21769460
Book Chapters
1. Chow WB, Moore WS. Rutherford's Vascular Surgery and Endovascular Therapy. 9th ed. Philadelphia: Elsevier; c2019. Chapter 95, Carotid Body Tumors; p95.1-95.10.
Warren Chow, MD, MS, MS, RPVI, is a board-certified vascular surgeon at the VA Puget Sound Health Care System and a UW Assistant Professor of Surgery. He is the Director of the Vascular Laboratories at the VA Puget Sound Health Care System (VAPSHCS). He is also an Assistant Program Director for the Vascular Surgery Integrated Residency and Fellowship Programs; and the Site Director for Vascular Surgery at the VAPSHCS.
Dr. Chow practices both vascular and endovascular surgery. His clinical interests and expertise are in the treatment of complex peripheral vascular disease with open surgery and minimally invasive techniques, limb salvage, carotid artery disease (including trans-carotid artery revascularization), and aortic disease. He believes that successful treatment requires a partnership between the patient and the healthcare providers to develop goals and treatment plans that they can accomplish together. He is also dedicated to the education of medical students, residents, and fellows.