An appointment at UW offers a wide range of benefits as part of your compensation package, including Medical, Dental and Long-term Disability options; matched retirement plans and investment programs; Vacation and sick leave benefits, wellness resources, work/life programs including on-site childcare, tuition-exemption for higher-education courses, and more!
The University of Washington School of Medicine Office of Graduate Medical Education (GME) oversees wellness and benefits to all ACGME-accredited residency and fellowship training programs at UW, including general surgery. The GME homepage summarizes much of the information that follows.
Below are a few specific benefits that applicants often ask about.
Vacation Policy
All residents are allowed three weeks (15 working days +6 weekend days) annual leave. In general, these are divided into a 2-week block and a 1-week block. Vacations are taken during or are coordinated with, the EVATS rotation. Exceptions are June 15 – July 15.
Transportation/Parking
The U-PASS provides residents with a variety of low-cost transportation options in the greater Puget Sound area.
Pay Per Use Parking (PPUP) is required at UWMC and HMC. The daily rate varies based on the number of times you park in a pay period. Parking is provided for residents commuting to Wednesday education conferences/grand rounds. Parking at the VA and Children's Hospital is free!
In addition, there is a free shuttle service connecting the major training institutions which runs approximately every 15 minutes from 6am to 7pm Monday through Friday.
Fitness Facility
All residents are eligible for membership to the University of Washington Intramural Activities Building (IMA). This facility is host to many indoor and outdoor activities including: studios for aerobic exercise and martial arts, archery, basketball, handball/racquetball courts, squash courts (International and North American), swimming pool, thirteen tennis courts (six night lighted), volleyball, ultimate frisbee, and a fitness center with over 300 pieces of free weights, cardio and single station weight machines. Memberships may be purchased on a single use, quarterly or annual basis.
Department Specific Benefit – Ski Day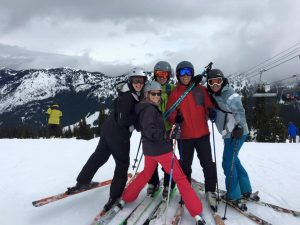 History provided by Dr. Hugh Foy: "Ski day was initiated in Feb 1979 by Chairman, Dr. John Schilling. Dr. James Carrico was the Program Director. It was a time of transition and change; Harborview had been an "every other night" program and the crush of clinical volume, particularly at HMC where there was only one R5 was difficult to say the least. There was no food service in-house, only vending machines. Vacation was limited to 2 weeks. HMC "shifts" were typically 40 (hours) on, 8 off, the ER rotation was 27hrs on (24 hrs plus follow-up clinic) – 21 off, salary was in the bottom 5th percentile nationally, and there was no such thing as meal reimbursement or parental leave. Faced with a high attrition rate and low morale, the residents met and drew up 14 significant issues that were felt to be critical for their continued ability to safely deliver care. In a "let them eat cake" astute political move, Schilling told Carrico to "buy them a keg, rent them a bus and send them skiing for a day".
This event is held each year on President's Day from 7am-7pm. It is supported by department funds and faculty good will and is a time to promote resident morale and camaraderie. Although the Department can no longer fund the keg, as an alcohol-free event, it still pays for the bus and lift tickets.
Travel supported by the Department of Surgery:
Papers or presentations developed as a result of work done in the clinical or basic science laboratory of an individual faculty
WA-State ACS meeting
Seattle Surgical presentations
ACS Clinical Congress for categorical R4s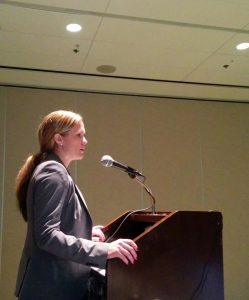 Additional benefits supported by the Department of Surgery:
Annual resident membership to the American College of Surgeons is sponsored by the department.
Thanks to support from the Harkins Alumni Society, operating loupes are provided to all categorical General Surgery residents at the beginning of their R2 year.
Additional annual academic stipends are available and considered by the Program Director.