The UW Academic Global Surgery Fellowship Track was created in 2009. The purpose of the fellowship is to train surgical leaders with scientific research tools and knowledge necessary to sustain an academic surgical career with a focus on Global Surgery that will advance surgical care, research and education in the global or rural surgery settings.
Program Goals
To train leaders in global surgery. Graduates acquire rigorous scientific research tools and knowledge necessary to sustain an academic surgical career with a focus on Global Surgery enabling broad impact research in Global/Rural surgical care. The program is also designed to train surgeons who will participate in humanitarian relief as well as the development, implementation and evaluation of surgical programs and their clinical effectiveness in conjunction with governmental and non-governmental organizations worldwide. The program  fosters knowledge of global public health issues, clinical effectiveness, health metrics, governmental and nongovernmental organizations, and health care infrastructure around the world. Each program is tailored to the resident's interests and background.
Objectives
Successfully complete an advanced degree or certificate. Advanced degrees must be obtained at the University of Washington. Options include the following degrees although other degrees at UW can be considered in consultation with faculty mentors, depending on the resident's interest:
Successfully complete the Department of Global Health Pathway leading to a Global Health Certificate or a Graduate Certificate in Global Injury and Violence Prevention.
Participation in the monthly Department of Global Health Journal Club.
Participation in the Department of Surgery Global Surgery Interest Group (quarterly meetings).
Participation in the monthly SORCE (Surgical Outcomes Research Center) and CHASE (Centers for Health System and Comparative Effectiveness) meetings.
Demonstrate an understanding of grant writing and application processes including obtaining IRB approval.
Research project focus under the guidance of a faculty mentor(s) leading to scientifically rigorous publications in one or more of the following areas:

Rural healthcare issues
Healthcare system development
Health policy
Applied clinical epidemiology in trauma and injury prevention, cancer, gastrointestinal diseases, and other surgical issues
Health services and health economics research
Health metrics and evaluation

Educational rotations or research with agencies such as WHO are encouraged after consultation with fellowship mentors.
UW Medicine Surgical Care and Education: Post-graduate fellows in Pathway C who are board-eligible in general surgery can apply to receive clinical appointments at UWMC and Harborview Medical Center and an academic appointment at University of Washington School of Medicine.  Fellows with appropriate training and credentials will have the opportunity to obtain staff physician privileges in order to supervise and teach UW surgery residents and medical students. Fellows can staff inpatient, outpatient, and emergency room patients with the residents. This system allows the fellow to mentor and educate residents, maintain surgical skills, and maintain clinical decision making processes.
Candidates
UW Surgery Residents should apply for this track through the standard application process for doing research following their PGY3 or PGY5 year (Pathway A, B or C). The number accepted each year will depend on funding availability.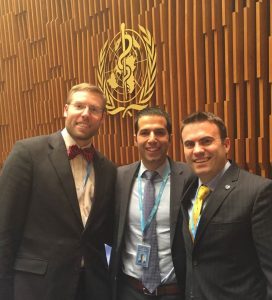 Competitive candidates will be those with a vested interest in an academic career based in a university hospital setting. A career interest involving scholarship and grant funding along with part or full-time field work in the global setting with a career goal of promoting sustainable surgical services throughout the world is required. The program will recruit trainees who already have substantial experience in the global healthcare setting in low and middle-income countries prior to residency training. The completion of the Global Surgery Fellowship Track would focus mostly on education and acquisition of research tools to be used in the global setting and the development of mentor relationships and national and international connections in the field of Global Health. It should be emphasized that a major focus of this program should be research productivity with the publication of high-quality clinical research papers. Although not part of this program, we would anticipate that graduates would be interested to spend another one to three years in a global surgery clinical setting following board certification to further continue their career development.