Residency Track
Residents interested in general surgery can apply to either the 5-year program or the 5 + 2 year program. Those with interest in rural and/or global surgery should make that known in their application and during their interviews. Once matched, we will work with each resident to create a tailored plan to ensure that they are exposed to the core curriculum as well as specific interests. For those who pursue the 5 + 2 year program, we will support applicants to fellowships that provide an extraordinary professional development experience (e.g., NIH/Fogarty Global Health Research Fellowship, NIH T32 or F32, Indian Health Service Injury Epidemiology Fellowship, advanced degree programs, others). We are currently developing a clinical training opportunity that will allow trainees to gain competencies in the essential care of select orthopedic, urological, obstetric, gynecological, and neurosurgical conditions, as well as be immersed in rural and critical access hospital care systems.
Fellowship Program
Residents who are applying to fellowships at UW can also apply to the NIH/Fogarty Global Health Research Fellowship through the Northern Pacific Global Health Consortium based at UW. The fellowship would allow the board-eligible surgeon to have a mentored research training experience in Ghana or Nepal before or after their fellowship is completed.
UW Global Surgery Student Alliance (GSSA)
The Global Surgery Student Alliance (GSSA) is a national student-run global surgery working group, affiliated with the International Student Surgical Network (InciSioN). GSSA's mission is to educate, inspire, and unite students through engagement and mentorship in global surgery. The University of Washington School of Medicine GSSA chapter was founded in 2020 in partnership with UW PROGRESS. Student events include global surgery focused journal clubs, research project coordination between the student body and faculty, guest lectures and collaborative projects with GSSA locally, nationally and internationally.
The Billings-UW Rural Surgery Track
The UW Department of Surgery is committed to serving the Washington, Wyoming Alaska, Montana and Idaho (WWAMI) region and training the next generation of surgeons who will making meaningful, positive differences in the health of people living in rural communities. Additionally, many of the challenges faced by surgeons in rural practice are analogous to those faced by surgeons globally and can be addressed by similar training paradigms.
The objectives of the program are to:
Provide UW general surgery residents with longitudinal education in rural surgery, health equity and advocacy, including a one-year clinical training experience and, for select residents, a second year of mentored research and/or professional development opportunities;
Support Billings Clinic's commitment to educating top surgical trainees from UW with rotations in general surgery and other pertinent specialties (e.g., therapeutic endoscopy, orthopedics, urology, obstetrics and gynecology) at Billings Clinic, and rotations at critical access hospitals across Montana; and
Establish a model academic-community rural surgical education program that enriches resident training, serves as a conduit for future rural surgeons, improves the health of WWAMI communities, and enlivens the field of rural surgery more broadly.
The program will initially be available to residents during one of their research years or as a non-accredited fellowship after general surgery training (i.e., for board eligible UW general surgery graduates). Our goal is to mature the Billings-UW Rural Surgery Track into an ACGME-accredited rotation, elective, and/or year depending on the mutual needs of Billings Clinic and our residents. The program will start at the beginning of the 2023-2024 academic year. If you are interested in the Billings-UW Rural Surgery Track, please contact Dr. Barclay Stewart (barclays@uw.edu) or Dr. Dana Lynge (dlynge@uw.edu).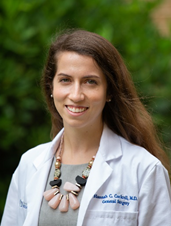 Name: Dr. Hannah Cockrell
2021 - 2023
UW PROGRESS Position: Two-year research fellowship at Seattle Children's Hospital
Mentor:  Dr. Sarah Greenberg
Research: Dr. Cockrell is working with the Surgical Equity Working Group to Underscore Population Health. Her research focuses on surgical equity and examines the impact of social determinates of health on pediatric surgical outcomes. She is assessing the impact of telehealth during the COVID-19 pandemic on access to surgical care among historically resilient populations, as well as evaluating the association between area deprivation index and post-operative morbidity and mortality. Dr. Cockrell has additional interests in global surgery and pediatric surgical capacity building in low- and middle-income countries. She is on the trainee leadership team for UW PROGRESS.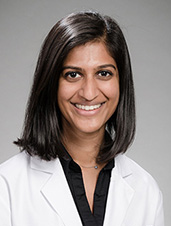 Name: Dr. Kajal Mehta
2020 - 2022
UW PROGRESS Position: Two years as an NIH–funded Northern/Pacific Fogarty Global Health Fellow focusing on burn and trauma care, injury and prevention.
Mentors: Drs. Barclay Stewart and Tam Pham at the University of Washington, and Drs. Kiran Nakarmi and Shankar Rai at the Nepal Cleft and Burn Center.
Research: Dr. Mehta's research projects included studying the feasibility and implementation of enteral-based resuscitation for burn injuries with an ongoing pilot study in Nepal, as well as the development of an enteral-based resuscitation protocol with collaborators in Nepal and Ghana. Her additional projects included working with the Stanford University humanitarian collaborative and other trauma-systems related work. Dr. Mehra also served as the Vice-Chair of the ACS-RAS Global Surgery Working Group.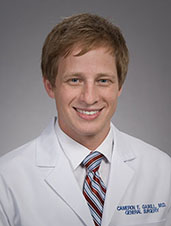 Name: Dr. Cameron Gaskill
2015 - 2017
UW PROGRESS Position: One year NIH Fogarty International Center fellowship working to improve surgical care in low–and middle–income countries (LMICs).
Mentors: Dr. Charles Mock and Dr. Joseph Zunt
Research: Dr. Gaskill's work focused on enhancing surgical care of trauma and oncology patients in health facilities in Kumasi, Ghana and other LMIC through systematic assessment of resource need, characterization of disease burden, and the effects of strategic interventions.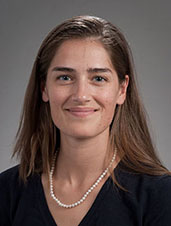 Name: Dr. Lacey LaGrone
2014 - 2016
UW PROGRESS Position: One year NIH–funded Northern/Pacific Fogarty Global Health Fellowship for trauma quality improvement research.
Research:  Dr. LaGrone conducted trauma quality improvement research as a Northern/Pacific Fogarty Global Health Fellow in Lima, Peru. She performed quantitative research across Latin America regarding current efforts to implement trauma quality improvement, and in-depth qualitative research in Lima, Peru evaluating the barriers and facilitators to trauma quality improvement program implementation. Through these efforts she helped to develop a Morbidity and Mortality conference toolkit that is being used to standardize this important surgical QI component nationwide in Peru.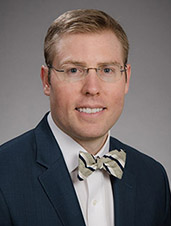 Name: Dr. Barclay Stewart
2014 - 2016
UW PROGRESS Position: Two-year NIH–funded Northern/Pacific Fogarty Global Health Fellow studying metrics for global surgery and trauma care capacity development.
Mentors: Dr. Charles Mock, Dr. Joseph Zunt, and Dr. Peter Donkor, Professor of Oral and Maxillofacial Surgery at the Kwame Nkrumah University of Science and Technology (KNUST) in Ghana.
Research: Dr. Stewart's research focused on pragmatic solutions to enhance care of the injured, burned and those in need of emergency surgery in health facilities in Ghana through systematic assessment of resource need, characterization of disease burden and modeling the effect of strategic interventions. In addition, he studied surgical epidemiology in complex humanitarian emergencies and from population–based studies of surgical need and injury burden in Nepal, Sierra Leone and Iraq. At the end of his fellowship, he was an Intern at the World Health Organization and worked on the development and evaluation of core trauma care products.
Dr. Stewart went on to complete a trauma, burn and surgical critical care fellowship at the University of Washington, and stayed to join as a faculty member at Harborview Medical Center. He continues to work on a wide variety of projects relating to trauma, burn and injury prevention with global collaborators and co-leads UW PROGRESS at the University of Washington.