Meissner Receives Peter Gloviczki Professorship in Venous and Lymphatic Disorders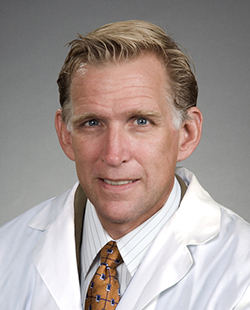 On July 12th and 13th, the Department of Surgery celebrated the establishment of the Peter Gloviczki Professorship in Venous and Lymphatic Disorders. Dr. Mark Meissner, Professor of Surgery in the Division of Vascular Surgery, was named as the initial holder of the professorship in recognition of his expertise in deep venous thrombosis and chronic venous disease. Named for Dr. Peter Glovliczki, lead vascular surgeon at the Mayo Clinic, the Professorship is funded by an anonymous donor to honor two individuals "who have been significant in the life and professional development of the donor." It is unique in that it is the first Venous and Lymphatic Disorders Professorship to be established in the United States and second in the world.
The Division of Vascular Surgery welcomed Dr. Gloviczki with a Vascular Surgery Roundtable during which several Department of Surgery residents and fellows presented interesting cases to Dr. Gloviczki and division faculty. Later that evening, Drs. Gloviczki and Dr. Meissner were joined by a handful of other Department of Surgery faculty for a dinner in honor of the new Professorship. The following morning, Dr. Meissner presented Grand Rounds. His presentation was entitled "From the Mayo Clinic to Jackson, Mississippi: A Century of Progress in the Management of Chronic Venous Disease." This presentation discussed the decades-long relationship between the Mayo Clinic and the University of Washington as leaders in the field of venous disease.
The Peter Gloviczki Professorship in Venous and Lymphatic Disorders ensures that patients with these disorders will continue to receive excellent care, and that research in this field will continue. The Department of Surgery at UW Medicine is extremely grateful to the donor for their vision and this honor.